Ravenloft Comes To Neverwinter
Heroes of Neverwinter, your newest adversary awaits in Castle Ravenloft.
Neverwinter just launched its Ravenloft module on PC – the 14th module since the game dropped in 2013.
Based on the popular Dungeons and Dragons Campaign Setting, Neverwinter's Ravenloft module gives heroes a chance to battle the dreaded vampire Count Strahd von Zarovich.
While it has been fun for players to face powerful villains in the Forgotten Realms, Ravenloft gives players a chance to battle a new adversary whose origins lie outside of Faerun – an adversary who is considered one of DND's oldest and most dangerous enemies.
Below is his biography from the Ravenloft Wikipedia Page
Strahd Von Zarovich was allegedly the first Vampire and the dark lord of Barovia.
After fighting a series of wars, he retired to the valley of Barovia and had a fortress named Castle Ravenloft built, after which his brother Sergei came to live with him. Strahd's beloved Tatyana was in love with Sergei, so Strahd made a dark bargain with one of the powers in the Amber Temple. Strahd killed Sergei and Tatyana threw herself off Ravenloft's overlook. Strahd was then cursed by his parents in the form that he would always be trapped in Barovia and not even death would relieve him of his curse. His guards turned on him and shot him with their arrows but he did not die, he became a vampire, the first vampire.
But the vampire lord isn't the only dangerous foe for Neverwinter's champions. Heroes will come up against all kinds of undead, werewolves and ghouls.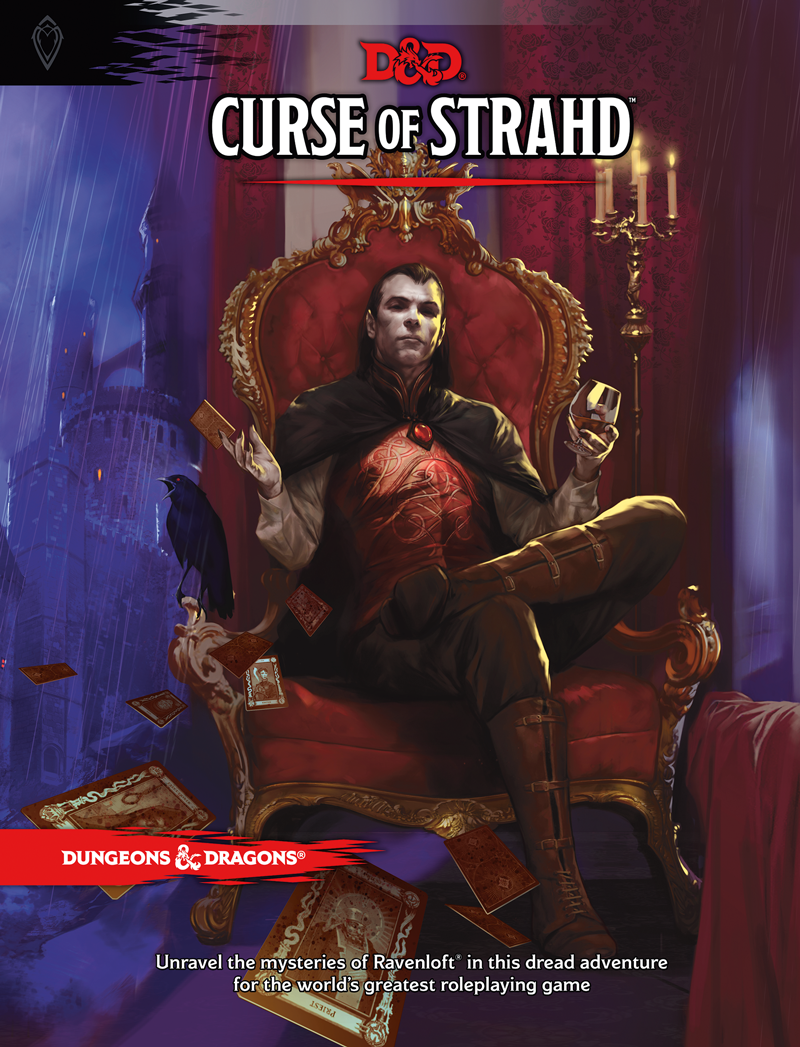 But heroes won't be battling Strahd's forces by themselves. There will be factions who will aid players, one being the Vistani.
The Vistani are an elusive group of wanderers that roam the land of Barovia. Your first encounter with them will not only start you on the right path into the land of Barovia, but will also endear yourself to them. In doing so, they will set you up with an appropriate set of gear to help you as you brave the mists; a very gracious set of 8 pieces of gemmed 460 gear, as well as a Vistani weapon set and 3 trinket artifacts.
Heroes also have a chance to get some high-level gear from the Yen Store and from dispatching foes.
Some of the new items added to the Zen Market include
Vistani Wanderer Companion –

A wandering Vistana looking for some entertainment will fight alongside you in Barovia and beyond. This companion's active bonus increases the drop of Barovian Coins, Omens, and Gold by 10%, and includes 3 item slots.

Tarokka Card and Key Bundle –

This key bundle includes 20 Enchanted Keys and a 5-card pack of random Tarokka cards.

Knox's Veteran Recruitment Order –

This new prebuilt character update gives players more campaign unlocks, Ravenloft intro gear, Ghost companion, 3 rank-7 bonding runestones, and more!
From June 26 to July 26, heroes can visit the Rewards Claims Agent for Ravenloft Treasure Chests.
While PC players are already playing in Ravenloft, console players won't have to wait too long to begin their hunt for Strahd as the module is expected to come out for Playstation 4 and Xbox One soon.
Capcom Announces New Content for Monster Hunter Rise: Sunbreak
Capcom has officially announced that Free Title Update 4 will be arriving for Monster Hunter Rise: Sunbreak on February 7th which will include new foes alongside new Anomaly Research content, Event Quests and a new paid DLC.
Velkhana, the elusive Elder Dragon, has been spotted by the scouts of Elgado Outpost and poses a chilly challenge as it can freeze hunters in an attack, and will join the arrival of Risen Crimson Glow Valstrax when the new update drops.
New Anomaly Research will be available, Afflicted Chaotic Gore Magala joining the A8 Quests, and the Anomaly Investigation cap will be upped to 220.
More is in the works for Free Title Update 5, which is currently slated to arrive in April
Overwatch 2 Aims to Penalize Players Who Are Friends with Cheaters, Increased Voice Comms Monitoring
Blizzard is leveling up their efforts to thwart cheaters and misconduct within Overwatch 2, as the company aims to penalize players who are friends with cheaters and will amp up their monitoring of voice communications.
The company detailed this in the brand new update for its Defense Matrix Initiative, which is focused on curbing "gameplay sabotage, abusive chat, and cheating" stating their plan to come down on players who team up with cheaters, and more.
Blizzard admitted that cheating in Overwatch 2 is a problem and has "actioned over 50,000 accounts" since the game launched and starting in Season 3 they will be actively identifying players that purposely team up with players who are regularly flagged as cheaters, and will also face potential discipline.
Overwatch 2 will also have improved protection for streamers, as the issue of Stream sniping continues to be a problem, and in Season 3 they will be "introducing new streaming protection features that should be a huge step toward enabling content creators to share Overwatch 2 with their fans safely."
Blizzard is encouraging players to report any disruptive or problematic behaviour in their matches.
Pokemon Scarlet and Violet Receiving Update in February
The popular title Pokemon Scarlet and Violet is set to receive a brand new patch, but gamers will have to wait until late February for it to arrive, according to a post from the team on the official Pokemon website.
The post, which was celebrating all 1008 Pokemon, detailed that the patch is currently planned – "Update Ver. 1.2.0, which will include bug fixes and add functionality, is planned to be released in late February. Please look forward to more details soon."
Bookmark that date in your calendars, so you can get the latest patch when it arrives later next month.