The Division 2: Clan System Breakdown
The Division 2 is now officially launched and with it comes a brand new clan system in which you can create and manage your very own group of agents in an "exclusive club" that allows you to recruit members, allowing up to 50 accounts with up to four characters each.
Ubisoft released the following information regarding the new Clan system:
The Division 2 – Clan System
How to Join a Clan in The Division 2
When searching for a clan, a number of options will be available to help you find one that best suits your particular needs or playstyle.
Activities: The primary focus of the clan, PvE, PvP or both.
Most Active Times : The time of day the clan is the most active.
Atmosphere: The general atmosphere of the clan. This will indicate whether a particular group is relaxed and easy-going clan, focused on certain aspects, or a highly competitive PvP clan.
Mic Requirement: If the clan requires a microphone to be able to join.
Language:The primary spoken language of the clan.
Region: The geographical location of the clan members.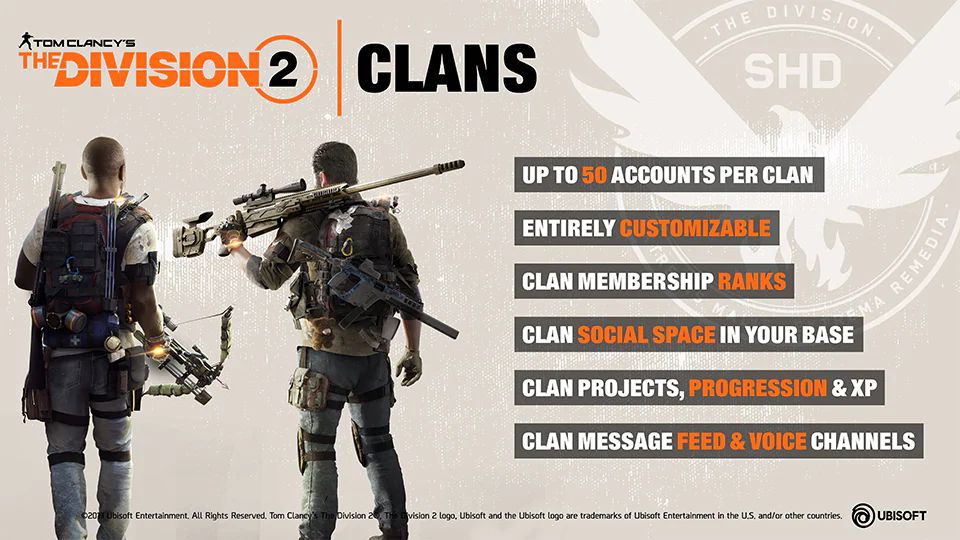 Creating and Managing a Clan in The Division 2
When creating a clan, you will start off with designing an insignia. There will be various options to choose ranging from icons, a background and border types to create your own unique design.
Once you have created an insignia, it's time to give your group a name. A clan name can be between 4 to 15 letters long and the clan tag, which is visible to all players, consists of three capitalized letters. You can also write a presentation to introduce your clan to your players.
Each clan is also able to set a preferred privacy level which consists of the following:
Open – Searchable and open for all players.
Invite Only – Searchable but requires an application to be sent and reviewed by clan leadership.
Private – A private clan is not searchable and can only be joined through an invite sent by the clan's leadership.
Clan membership is also organized into four ranks, which will help tremendously with organisation and structure:
Commander – The leader of the clan which has access to all administrative functions of the clan.
Lieutenant – The officer rank, which will be able to send out invites, review applications, promote and demote members as well as moderate the clan feed.
Agent – The established clan member able to invite potential recruits to the clan.
Recruit – The recruit is a new member of the clan with limited access to administrative clan functionality.
When reviewing applications as a Commander or Lieutenant, you will be able to inspect the applicant's characters and have a look at their gear.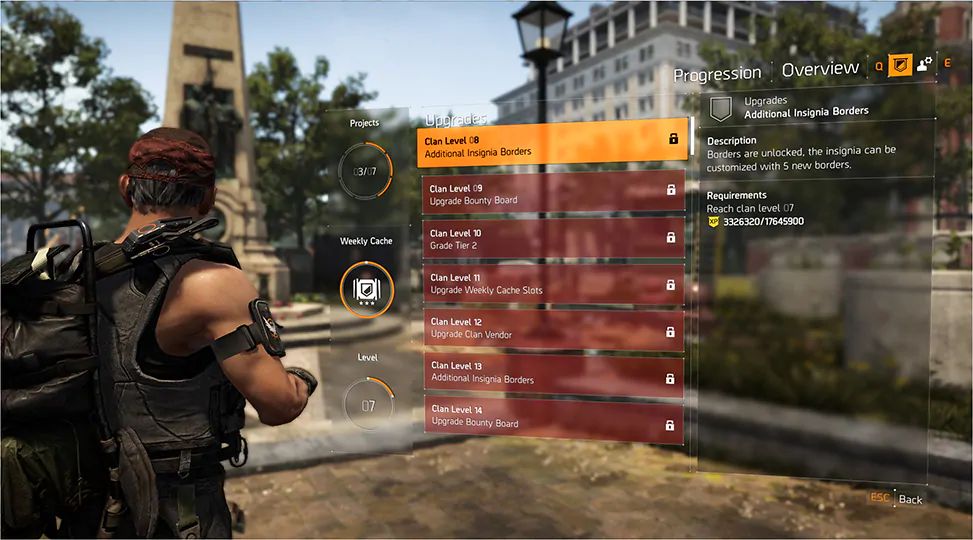 Clan Progression in The Division 2
All in-game actions taken by members which provide experience points will alsoyield Clan XP (CXP). Earning experience will help your clan level, which in turn provides additional benefits for each level the clan reaches up to level 30. CXO will also unlock additional customization options for the insignia, showcasing your clan's veterancy.
Clans will also work together toward common goals such as weekly projects and a clan cache which can be upgraded. Both will rewards members upon completion. The weekly clan cache requires a weekly CXP goal to be reached with additional stretch goals.
There are three tiers of reward: bronze, silver and gold. Reaching bronze unlocks guaranteed rewards, while reaching silver and gold will further improve the week's rewards.
Clan projects are weekly tasks and will boost your CXP upon completion, and each focuses on a particular aspect of the game. Should your clan complete all weekly projects, it will receive an additional, large amount of CXP.
Clan Quarters in The Division 2
Ever dreamed what it would be like living in the White House? Well, dream no more, my loves: this is where your clan will hang out.
Over in the East Wing of the White House, your clan will have its own space to socialize and regroup. Here is where you will find all of the clan stash to collect your weekly rewards, look over the clan bounty board, and interact with the clan vendor once reaching clan level 2.
As part of the clan's level progression, the quality of items offered by the clan vendor will improve. Certain levels will also unlock the ability to purchase cosmetic headgear sporting your insignia. Neat.
OTHER STORIES ON VG247
:: Devil May Cry 5 has a censored scene in the West – but only on PS4 – VG247
:: Watch the reveal of The Master Chief Collection on PC – and possibly the disc-less Xbox
The clan quarters is also where you'll be able to see your clan's three, weekly top CXP contributors. Nothing like giving your members a bit of recognition for their accomplishments, right?
Massive said there will be more to discover in the clan quarters, but they are keeping things secret until the game releases.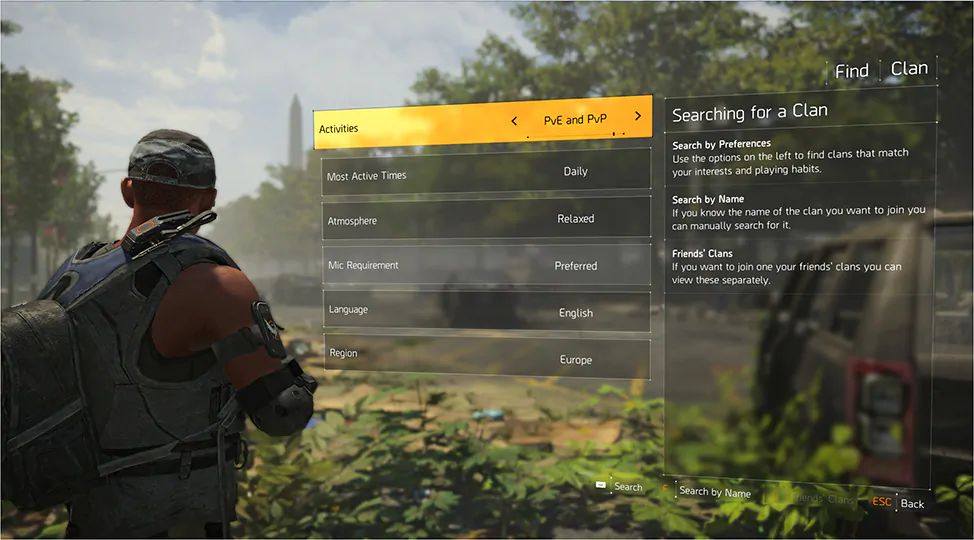 Dota 2 New Hero is Snapfire
Dota 2 is rolling out a brand new hero, and this time it's a grandma wielding a shotgun.
Snapfire is the latest hero to join the roster, and she is expected to arrive, shotgun and all, sometime this fall.
Oh, and she won't be coming alone as she comes with a giant lizard friend, and a senior citizen badass who loves to bake cookies, because that's what grandmother's do.
Dota 2 – Snapfire #Dota2 #TI9

Watch the full Trailer on Youtube https://t.co/au71griuaT pic.twitter.com/XoYalBpZC3

— The International (@dota2ti) August 23, 2019
Fortnite's B.R.U.T.E Mech Officially Nerfed
Finally, Fortnite has nerfed the highly-powerful B.R.U.T.E mech that was introduced during the launch of Season 10.
The nerf will likely delight a number of fans, who have been calling for the mech's removal as the mech has been almost unstoppable, and has altered gameplay tremendously when in play.
While it's not a removal, it will make the mech a less over-powering force when in gameplay.
Additionally, the Junk Rift has been disabled in FNCS tournament and Arena playlists.
Here are the details

B.R.U.T.E.
Decreased the maximum amount of rockets fired by the B.R.U.T.E. in a single charge from 10 to 6.
Decreased the rate at which the rockets are fired from the B.R.U.T.E. by 56%.
Our goal with these changes is to increase the back and forth between the users of the B.R.U.T.E. and the players they face. These changes allow the players on the receiving end of the missile volley to have more time to react and protect themselves.
Decreased the radius of the B.R.U.T.E.'s rocket explosion by 42%.
Our goal with this change is to improve consistency and understanding around focused barrages of missiles. B.R.U.T.E.s will continue to be a strong option against structures, but less lethal against players.
Increased the dash cooldown from 3 seconds to 5 seconds.
The previous dash cooldown not only increased the B.R.U.T.E.'s mobility, but also made the B.R.U.T.E.s a harder target to hit from distance than we'd like. The adjustment here reduces the ability to close gaps quickly while in the B.R.U.T.E. while also increasing the ability to land shots on target for players facing the B.R.U.T.E.
Decreased the velocity gained from boosting while in air by 33%.
We want to reduce a B.R.U.T.E.'s ability to engage and disengage at long distances to encourage a more strategic approach to an encounter. In general we hope to shift B.R.U.T.E.s away from being highly mobile and put more emphasis on their already defensive nature.
The B.R.U.T.E. no longer grants materials to the driver and passenger when stomping or dashing through the environment.
Note: This change should roll out shortly following the other changes.
Our goal is to add more tension between being in and out of a B.R.U.T.E. as well as reduce instances where players can farm faster than intended without exposing themselves to danger.
Adjusted the variability of spawn rates for storm phases 1, 2, and 3 in core modes. Arena spawn rates will remain unchanged.
Previously, the early stages of a match were guaranteed a minimum amount of B.R.U.T.E.s. We'd like to provide a little more variance to that experience so that matches don't always play out the same way. The overall average number of B.R.U.T.E.s per game is reduced slightly.
Decreased the material cost of using the gunner's overshield from 200 to 75.
Our goal is to further emphasize use of materials for positive defensive benefit.
Increased the Health of the B.R.U.T.E from 1000 to 1250.
With the above changes, users of the B.R.U.T.E. need to play a bit more strategic than before, so we want to give a little bit longer of a window to do so.
Storm phase 1
New spawn rates
29% chance to spawn 0.
14.3% chance to spawn 1.
14.3% chance to spawn 2.
14.3% chance to spawn 3.
14.3% chance to spawn 4.
14.3% chance to spawn 5.
Old spawn rates
33% chance to spawn 2.
33% chance to spawn 3.
33% chance to spawn 4.
Storm phase 2
New spawn rates
25% chance to spawn 0.
25% chance to spawn 1.
25% chance to spawn 2.
25% chance to spawn 3.
Old spawn rates
33% chance to spawn 2.
33% chance to spawn 3.
33% chance to spawn 4.
Storm phase 3
New spawn rates
25% chance to spawn 0.
25% chance to spawn 1.
25% chance to spawn 2.
25% chance to spawn 3.
Old spawn rates
33% chance to spawn 1.
33% chance to spawn 2.
33% chance to spawn 3.
Junk Rift
The Junk Rift has been temporarily removed from Arena playlists. This is due to an audio issue caused when the portal is significantly higher than a player.
Call of Duty: Modern Warfare 2v2 Gunfight Alpha Now Live on Playstation 4
Activision has opened the alpha test of the Call of Duty: Modern Warfare Gunfight early, and it is now available on Playstation 4, ahead of schedule nonetheless.
Activision turned servers on almost 24 hours earlier than expected, and the alpha already has a Playstation Store page so you can queue the 36GB download.
According to developer Infinity Ward, Gunfight will be included in the September beta.