The Division 2: Clan System Breakdown
The Division 2 is now officially launched and with it comes a brand new clan system in which you can create and manage your very own group of agents in an "exclusive club" that allows you to recruit members, allowing up to 50 accounts with up to four characters each.
Ubisoft released the following information regarding the new Clan system:
The Division 2 – Clan System
How to Join a Clan in The Division 2
When searching for a clan, a number of options will be available to help you find one that best suits your particular needs or playstyle.
Activities: The primary focus of the clan, PvE, PvP or both.
Most Active Times : The time of day the clan is the most active.
Atmosphere: The general atmosphere of the clan. This will indicate whether a particular group is relaxed and easy-going clan, focused on certain aspects, or a highly competitive PvP clan.
Mic Requirement: If the clan requires a microphone to be able to join.
Language:The primary spoken language of the clan.
Region: The geographical location of the clan members.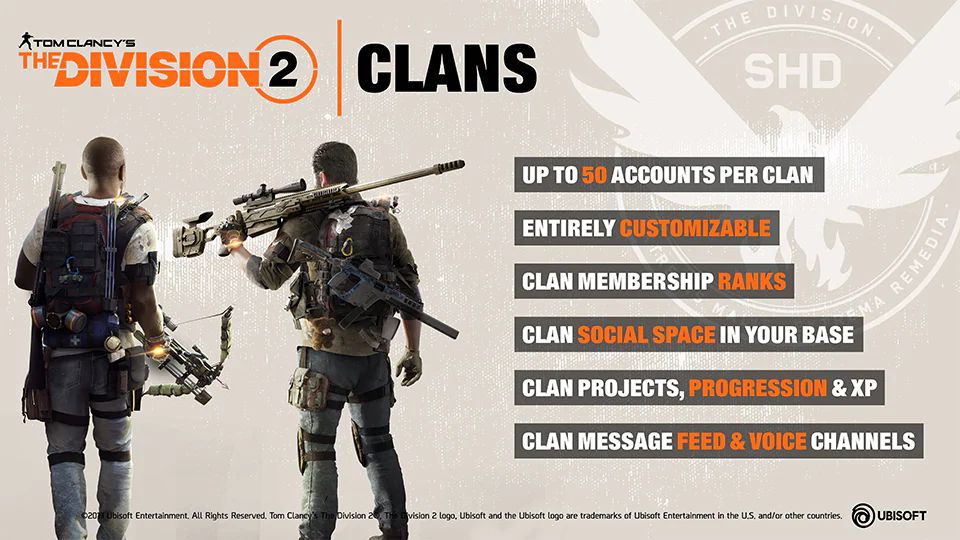 Creating and Managing a Clan in The Division 2
When creating a clan, you will start off with designing an insignia. There will be various options to choose ranging from icons, a background and border types to create your own unique design.
Once you have created an insignia, it's time to give your group a name. A clan name can be between 4 to 15 letters long and the clan tag, which is visible to all players, consists of three capitalized letters. You can also write a presentation to introduce your clan to your players.
Each clan is also able to set a preferred privacy level which consists of the following:
Open – Searchable and open for all players.
Invite Only – Searchable but requires an application to be sent and reviewed by clan leadership.
Private – A private clan is not searchable and can only be joined through an invite sent by the clan's leadership.
Clan membership is also organized into four ranks, which will help tremendously with organisation and structure:
Commander – The leader of the clan which has access to all administrative functions of the clan.
Lieutenant – The officer rank, which will be able to send out invites, review applications, promote and demote members as well as moderate the clan feed.
Agent – The established clan member able to invite potential recruits to the clan.
Recruit – The recruit is a new member of the clan with limited access to administrative clan functionality.
When reviewing applications as a Commander or Lieutenant, you will be able to inspect the applicant's characters and have a look at their gear.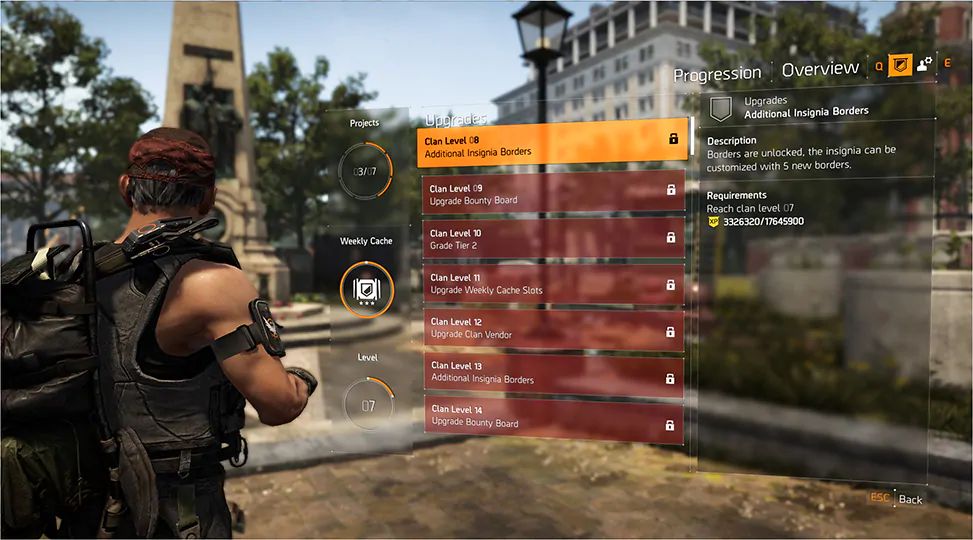 Clan Progression in The Division 2
All in-game actions taken by members which provide experience points will alsoyield Clan XP (CXP). Earning experience will help your clan level, which in turn provides additional benefits for each level the clan reaches up to level 30. CXO will also unlock additional customization options for the insignia, showcasing your clan's veterancy.
Clans will also work together toward common goals such as weekly projects and a clan cache which can be upgraded. Both will rewards members upon completion. The weekly clan cache requires a weekly CXP goal to be reached with additional stretch goals.
There are three tiers of reward: bronze, silver and gold. Reaching bronze unlocks guaranteed rewards, while reaching silver and gold will further improve the week's rewards.
Clan projects are weekly tasks and will boost your CXP upon completion, and each focuses on a particular aspect of the game. Should your clan complete all weekly projects, it will receive an additional, large amount of CXP.
Clan Quarters in The Division 2
Ever dreamed what it would be like living in the White House? Well, dream no more, my loves: this is where your clan will hang out.
Over in the East Wing of the White House, your clan will have its own space to socialize and regroup. Here is where you will find all of the clan stash to collect your weekly rewards, look over the clan bounty board, and interact with the clan vendor once reaching clan level 2.
As part of the clan's level progression, the quality of items offered by the clan vendor will improve. Certain levels will also unlock the ability to purchase cosmetic headgear sporting your insignia. Neat.
OTHER STORIES ON VG247
:: Devil May Cry 5 has a censored scene in the West – but only on PS4 – VG247
:: Watch the reveal of The Master Chief Collection on PC – and possibly the disc-less Xbox
The clan quarters is also where you'll be able to see your clan's three, weekly top CXP contributors. Nothing like giving your members a bit of recognition for their accomplishments, right?
Massive said there will be more to discover in the clan quarters, but they are keeping things secret until the game releases.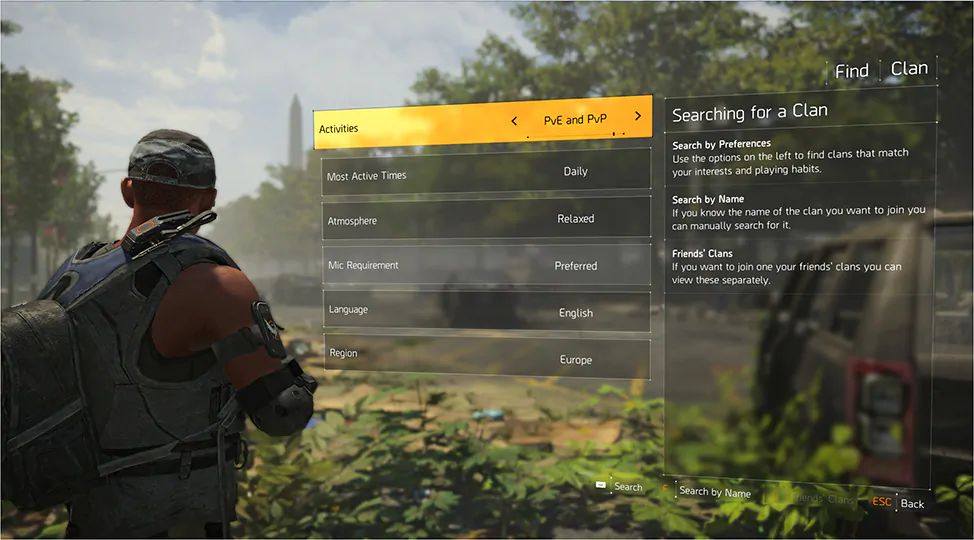 Football Manager 2023 Arrives in November
SEGA has announced that Football Manager 2023 will be making it's official arrival on October 8th, across Playstation 5, Apple Arcade, Nintendo Switch, and on day one through Xbox Game Pass and PC Game Pass.
Additionally, Football Manager 2023 Mobile for iOS and Android will also arrive on November 8th.
"FM23 marks another significant step forward for the Football Manager series as we debut on two new platforms," said Miles Jacobson, Sports Interactive's studio director. "Fans have been calling for us to produce a PlayStation title for a number of years, so I'm excited for those players to now get the chance to experience the closest thing to being a real football manager."
September Xbox Game Pass Games Announced
Xbox is rolling out their select slate of games for Xbox Game Pass for the month of September and is highlighted by the Disney farming life sim Disney Dreamlight Valley. Opus Magnum (PC) and Train Sim World 3 (console, PC) are also available.
Ashes of the Singularity: Escalation on PC, and DC League of Super-Pets: The Adventures of Krypto and Ace on PC, console and cloud, arrive on September 13th.
You Suck at Parking will release day one on cloud, console and PC on September 14th while Rhythm FPS Metal: Hellsinger (PC, Xbox Series X/S) and rogue-like tactics game Despot's Game (console, PC) arrive the following day.
Additionally, Game Pass subscribers will also gain access to updates and DLC (and discounts) for Dead by Daylight, Grounded, The Elder Scrolls Online, Halo Infinite and more.
Here are a list of games departing on September 15th:
A Plague Tale: Innocence (Cloud, Console, and PC)
Aragami 2 (Cloud, Console, and PC)
Bug Fables: The Everlasting Sapling (Cloud, Console, and PC)
Craftopia (Cloud, Console, and PC)
Final Fantasy XIII (Console and PC)
Flynn: Son of Crimson (Cloud, Console, and PC)
I Am Fish (Cloud, Console, and PC)
Lost Words: Beyond the Page (Cloud, Console, and PC)
Mighty Goose (Cloud, Console, and PC)
SkateBird (Cloud, Console, and PC)
The Artful Escape (Cloud, Console, and PC)
God of War Ragnarok Shows Off Gameplay within Svartalfheim
A brand new gameplay video for God of War Ragnarok, which is one of the most anticipated games coming to Playstation this fall, has showed off some of the action within Svartalfheim, one of the Nine Realms of the World Tree.
Fans have been waiting for some glimpses into the new game, and now they can check out Kratos and Atreus finally venturing into all nine realms.
Check out the new video, courtesy of Game Informer: