The Division 2: Clan System Breakdown
The Division 2 is now officially launched and with it comes a brand new clan system in which you can create and manage your very own group of agents in an "exclusive club" that allows you to recruit members, allowing up to 50 accounts with up to four characters each.
Ubisoft released the following information regarding the new Clan system:
The Division 2 – Clan System
How to Join a Clan in The Division 2
When searching for a clan, a number of options will be available to help you find one that best suits your particular needs or playstyle.
Activities: The primary focus of the clan, PvE, PvP or both.
Most Active Times : The time of day the clan is the most active.
Atmosphere: The general atmosphere of the clan. This will indicate whether a particular group is relaxed and easy-going clan, focused on certain aspects, or a highly competitive PvP clan.
Mic Requirement: If the clan requires a microphone to be able to join.
Language:The primary spoken language of the clan.
Region: The geographical location of the clan members.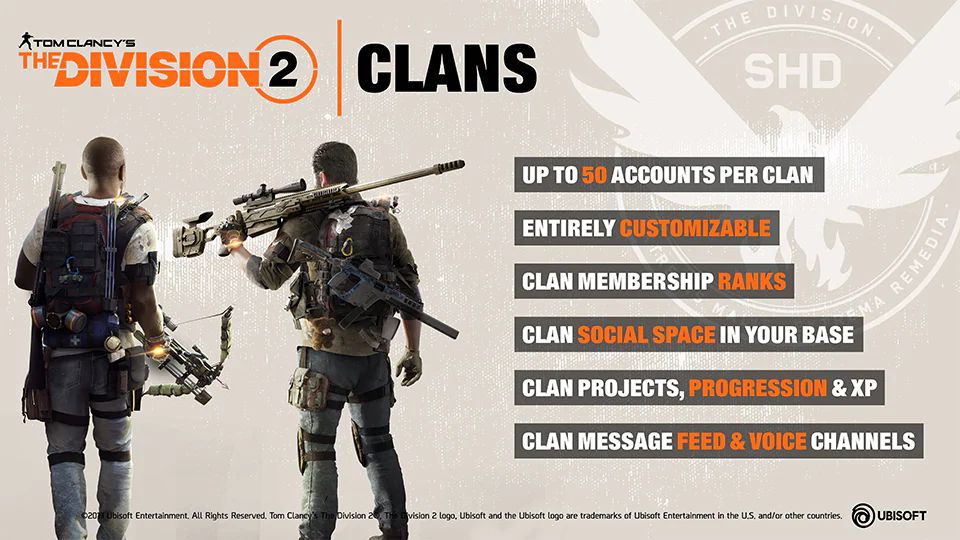 Creating and Managing a Clan in The Division 2
When creating a clan, you will start off with designing an insignia. There will be various options to choose ranging from icons, a background and border types to create your own unique design.
Once you have created an insignia, it's time to give your group a name. A clan name can be between 4 to 15 letters long and the clan tag, which is visible to all players, consists of three capitalized letters. You can also write a presentation to introduce your clan to your players.
Each clan is also able to set a preferred privacy level which consists of the following:
Open – Searchable and open for all players.
Invite Only – Searchable but requires an application to be sent and reviewed by clan leadership.
Private – A private clan is not searchable and can only be joined through an invite sent by the clan's leadership.
Clan membership is also organized into four ranks, which will help tremendously with organisation and structure:
Commander – The leader of the clan which has access to all administrative functions of the clan.
Lieutenant – The officer rank, which will be able to send out invites, review applications, promote and demote members as well as moderate the clan feed.
Agent – The established clan member able to invite potential recruits to the clan.
Recruit – The recruit is a new member of the clan with limited access to administrative clan functionality.
When reviewing applications as a Commander or Lieutenant, you will be able to inspect the applicant's characters and have a look at their gear.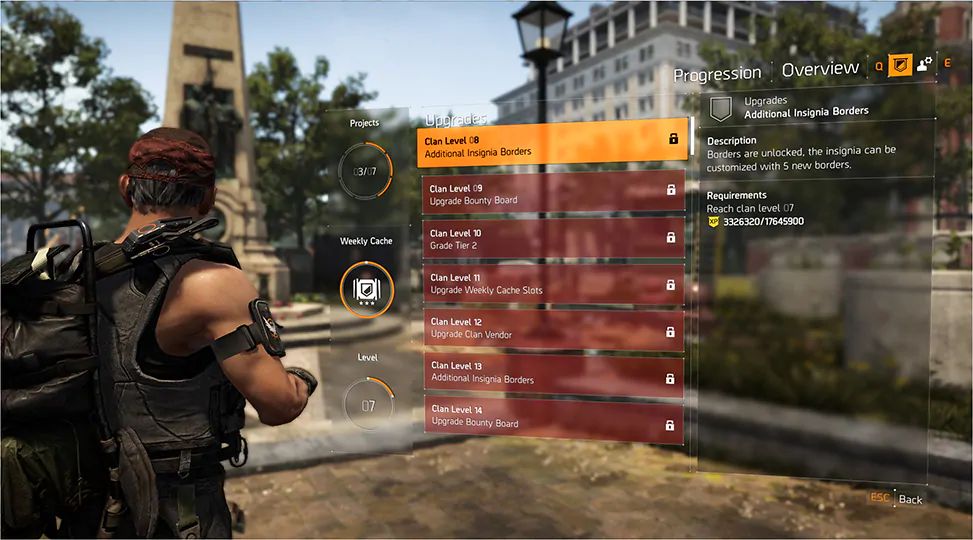 Clan Progression in The Division 2
All in-game actions taken by members which provide experience points will alsoyield Clan XP (CXP). Earning experience will help your clan level, which in turn provides additional benefits for each level the clan reaches up to level 30. CXO will also unlock additional customization options for the insignia, showcasing your clan's veterancy.
Clans will also work together toward common goals such as weekly projects and a clan cache which can be upgraded. Both will rewards members upon completion. The weekly clan cache requires a weekly CXP goal to be reached with additional stretch goals.
There are three tiers of reward: bronze, silver and gold. Reaching bronze unlocks guaranteed rewards, while reaching silver and gold will further improve the week's rewards.
Clan projects are weekly tasks and will boost your CXP upon completion, and each focuses on a particular aspect of the game. Should your clan complete all weekly projects, it will receive an additional, large amount of CXP.
Clan Quarters in The Division 2
Ever dreamed what it would be like living in the White House? Well, dream no more, my loves: this is where your clan will hang out.
Over in the East Wing of the White House, your clan will have its own space to socialize and regroup. Here is where you will find all of the clan stash to collect your weekly rewards, look over the clan bounty board, and interact with the clan vendor once reaching clan level 2.
As part of the clan's level progression, the quality of items offered by the clan vendor will improve. Certain levels will also unlock the ability to purchase cosmetic headgear sporting your insignia. Neat.
OTHER STORIES ON VG247
:: Devil May Cry 5 has a censored scene in the West – but only on PS4 – VG247
:: Watch the reveal of The Master Chief Collection on PC – and possibly the disc-less Xbox
The clan quarters is also where you'll be able to see your clan's three, weekly top CXP contributors. Nothing like giving your members a bit of recognition for their accomplishments, right?
Massive said there will be more to discover in the clan quarters, but they are keeping things secret until the game releases.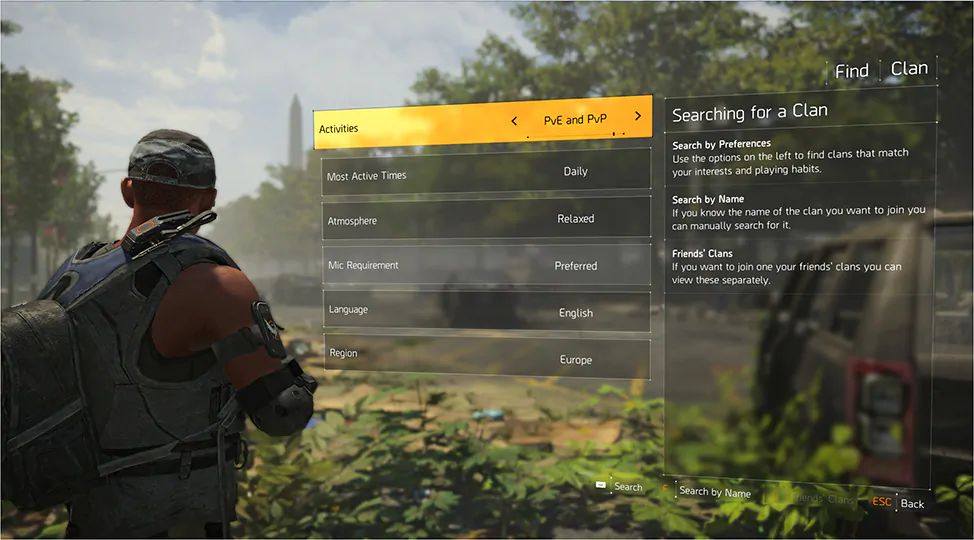 Playstation 5 Confirmed, Release Date End of 2020
After months of speculation, Sony has announced that it's next-generation console will indeed be called the Playstation 5, and the new console will be hitting the market near the end of 2020.
"Today I'm proud to share that our next-generation console will be called PlayStation 5, and we'll be launching in time for Holiday 2020″ Sony president of SIEE and president of global sales & marketing, SIE, Jim Ryan said in a post on the European Playstation Blog.
"These updates may not be a huge surprise, but we wanted to confirm them for our PlayStation fans, as we start to reveal additional details about our vision for the next generation."
Currently, there is no indication on what the price will be for the new console, or if the console will look "similar" to the patent images which surfaced back in August.

___
If you're looking to roll out a new version of your Twitch or Mixer channel, then Gamactica is the perfect place to market, network, and promote your streams. Regardless if you're a female streamer trying to make a name, or a hardcore pro player trying to catch the eyes of esports teams, it is important to ensure your branding is top notch. Rank next to the top game developer streams and alongside the ASMR channels of the industry, and join the Gamactica community.
World of Warcraft's Visions of N'Zoth Update Introduces New Playable Races
A pair of new playable races are heading to the World of Warcraft in a brand new, free update called Visions of N'Zoth.
Starting off are the Vulpera, which is a race of fox people that many players will recognize as non-playable race in the Battle of Azeroth expansion. The race will become available after maxing out their associated faction reputation and completing a quest.
Along with the Vulpera are the Mechagnomes, a robotic looking version of the standard Gnome race. This race can be unlocked with the release of update 8.3, which is looking to be quite the hefty update.
You can take a look at more information regarding the free update in the lengthy video below.

_____
Keeping your character alive and well is the key to success in World of Warcraft, which the same can be said IRL. Part of that, is staying informed about potential health risks, such as pilonidal, and potential threats, such as pilonidal disease. While they may not be the most well-known, it's these diseases that can prove to be more difficult to detect. Stay ahead, and remain on top of your health by educating yourself today.
Paradox Announces Surviving the Aftermath
Paradox has announced the next entry in the Surviving franchise that is scheduled to arrive sometime in late 2020.
'Surviving the Aftermath' is the brand new title, and the announcement came with the teaser trailer below, with more information promised at PDXCON 2019 taking place next week.
The new title will arrive in the Epic Game Store, Steam, and on the PS4, and Xbox One.

__
While you may be able to wait for Surviving the Aftermath, you may not want to wait around when it comes to improving the quality of your streams. If your goal is to be ranked among the best twitch channels, then you need to ensure you not only have the best streaming equipment, but also that your marketing and networking is up to par. Whether you want to be known among the best female streamers, or you're striving to attract the interest of eports teams, streaming quality content is one way to do just that, and more.