Borderlands 3's Takedown at Maliwan's Blacksite Kicksoff on November 21st
Gearbox is setting up for the Borderlands 3's Takedown at Maliwan's Blacksite which is set to arrive on November 21st.
According to the post on the Borderlands 3 website: "The Borderlands Show episode 2 is in the books, and if you missed the livestream on the official Borderlands Twitch channel, you can catch a VOD of the full episode above. Our regular hosts Greg Miller and Fran Mirabella from Kinda Funny were joined by Head of Gearbox Story Group Randy Varnell to dig into some spoiler-heavy discussions of Borderlands 3's story, take a first look at the free Takedown at Maliwan's Blacksite endgame content, and reveal a SHiFT code for the Spooky Surprise closing out the Borderlands Anniversary Celebration.
We know you like free stuff, so we'll cut right to the chase with that Spooky Surprise SHiFT code. Redeem the time-limited SHiFT code below to claim four creepy Vault Hunter Heads, one for each Vault Hunter, that'll definitely strike terror into the hearts of your enemies—and in the case of Moze's horrifying clown mask, might make them pee a little.
Once you've claimed your Vault Hunter Heads, it's time to talk Takedown at Maliwan's Blacksite. Like the ongoing Bloody Harvest event, Takedowns are more free content being added to Borderlands 3, but unlike the seasonal events which are only available for a limited time, Takedowns are permanent additions that you can take on when you feel you're ready. The only prerequisite to tackling a Takedown is completing the main story campaign, but it's strongly recommended that you first take your Vault Hunter all the way to level 50 and collect plenty of Legendary gear to hone your preferred build.
If you've fought your way through Borderlands 3's campaign, you already know how doggedly the Maliwan corporation wants you dead. With its seemingly infinite army of soldiers outfitted with highly advanced tech, Maliwan's forces pose a threat not just to you and your fellow Vault Hunters, but the galaxy at large. Lorelai helped lead the charge against Maliwan's troops during their attempted hostile takeover of the Atlas corporation on Promethea, and she's wary that they might come back to try and finish the job. In order to stave off another potential invasion, she's asking you to take the fight directly to Maliwan with a preemptive strike on one of their most secure, highly guarded facilities. It sounds like a suicide mission, but you've survived plenty of those before. Enter the Takedown at Maliwan's Blacksite.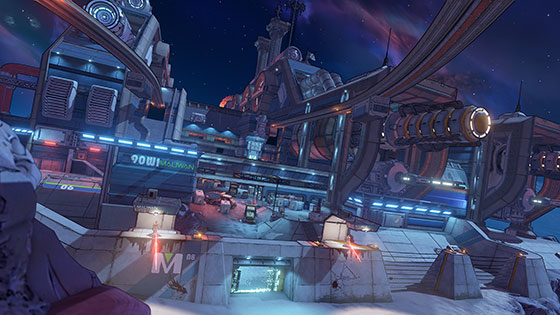 As Randy Varnell stated during The Borderlands Show, Takedown at Maliwan's Blacksite is "designed to be a four-player co-op mission at level 50," and the enemies there will all scale to that level by default. You have the option to attempt this Takedown solo, but don't be surprised if you don't even make it past Maliwan's first line of defense. Fortunately, Public Matchmaking will be an option for Takedowns, so even if you don't run with a dedicated crew of Vault Hunters, you can team up with matchmade strangers and venture into the Takedown's brutal test of skill.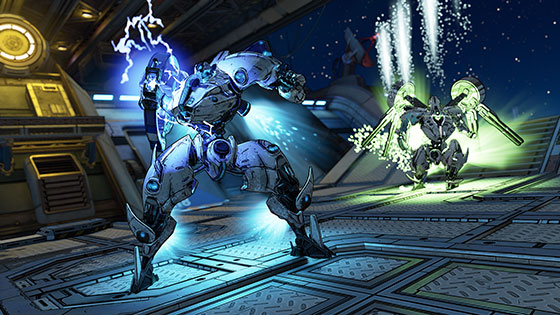 Unlike the rank-and-file infantry you've blasted before, only the most elite Maliwan soldiers have been stationed to guard Maliwan's Blacksite. You'll encounter tons of SpecOps Maliwan squads on this all-new map, plus three incredibly tough boss fights. Randy alluded to some of the new Maliwan mercenaries awaiting your arrival, like Riot Troopers whose shields absorb elemental damage that can be directed back at you, and Stealth Troopers who can fully cloak as if they've carefully studied FL4K's Fade Away Action Skill. You'll encounter even more enemy variants if you've got what it takes to brave the Takedown at Maliwan's Blacksite on True Vault Hunter Mode. The Borderlands Show also gave you a quick glimpse of Wotan The Invincible, a mechanical behemoth of a boss that fires missile barrages from behind its massive shields.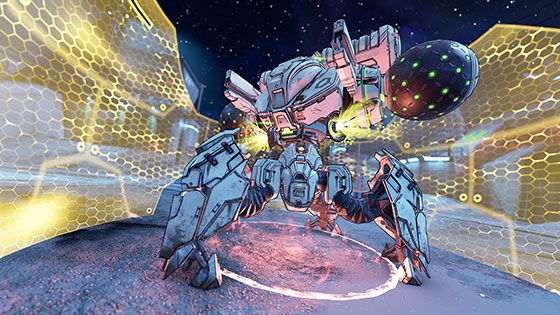 Takedown at Maliwan's Blacksite is some of the most challenging Borderlands 3 content yet, but the potential rewards are worth the risk. You can score all kinds of loot in the Takedown that you won't find anywhere else, including some of the best shields in the game and even exclusive Vault Hunter Head and Skin options. Takedowns are tuned for about 30-45 minutes of nonstop action. "[They're] probably a little bit longer than the Proving Grounds right now, but not too long," Randy explained on The Borderlands Show. "We still like that you can come play a session, then either replay it or take a break and come back tomorrow. It's designed to be replayable content."
Takedown at Maliwan's Blacksite will be coming to Borderlands 3 on November 21, so you've got some time to prepare your best builds and start strategizing with a group of like-minded Vault Hunters who are up to the task. We'll have more to share about the Takedown at Maliwan's Blacksite in the coming weeks, so be sure to check back on Borderlands.com—and you can catch the next episode of The Borderlands Show during the week of November 18 for even more reveals and in-depth Borderlands discussion.
*Offer good until 11/5/19 AT 12:00 AM PT or while supplies last. Limit one per person. Must be 18 or older. Void where prohibited. For complete terms, go to https://borderlands.com/borderlands-3-spooky-surprise-terms
Dragon Quest Builders 2 Heading to PC
Square Eniq has officially announced that Dragon Quest Builders 2 will arrive on PC on December 10th.
The popular block-building RPG will be the first game in the series to officially arrive on PC, and will do so via Steam and come with all DLC's that were released with the Playstatioin 4 season pass. That includes new content, recipes, hairstyles, clothing, and new areas as well.
Starting today and running through January 6, pre-purchasing the game will come with the following in-game bonus content:
Ornamental Medicinal Herb Recipe
Dragon Quest Logo Recipe
Ornamental Chimaera Wing Recipe
Five Sigil Block Recipes for building decorative blocks with sun, stars, moon, water and soul motifs
Legendary Line Art Recipe
Lo-Res Luminary Recipes
Star Wars Jedi: Fallen Order Releases PC Patch
Star Wars Jedi: Fallen Order has rolled out a brand new patch for PC that will address the longer than expected load times that have frustrated players.
Respawn has dropped the game's first official patch, with it hitting PC today and heading to both the Xbox One and Playstation in the very near future.
Read below for the full change log:
We've fixed a texture flickering issue that would display on the screen while driving the AT-AT on Kashyyyk.
Sometimes the input from the arrow keys would fail to respond within menus, this has now been fixed.
Dynamic resolution settings will now save properly.
Fixed an issued where the game could become slow and loading times longer than expected.
DICE Discusses Major Changes to Battlefield 5
DICE is working on some major changes for Battlefield 5, and update 5.2 is slated to be the game's biggest, and most impactful, change to hit the game yet.
DICE detailed a number of the changes in a new post on Reddit, saying that; "In the coming weeks, we'll have full details on what it is that you should expect to see added, fixed, and changed with Battlefield V as part of Update 5.2, as well as the precise times and dates that we'll see all of this new content go live. As ever, we'll continue to hold back on the full information until we've seen it clear through the usual Finalising, Testing, and Certification steps of our processes so that we can bring you the most accurate information, and avoid setting any wrong expectations.
That said, there are some things that we want to start the conversation on before we reach Update 5.2 – some of which will help to give you an understanding on where our focuses lie in the realm of continuing to improve and enhance the experience that many of you are having with Battlefield V every single day."
You can also check out the video below for even more details: