Details on Resident Evil 2's Ghost Survivor DLC
A brand new DLC, The Ghost Survivors, officially arrives this week and ahead of that release comes a bunch of details to give gamers a glimpse into what is in store.
No Time to Mourn
Stars Robert Kendo, owner of the famous Gun Shop Kendo. In The Ghost Survivors, he's given a second chance when an old friend with a helicopter radios in to pick him up. Packing up what weapons he can, Kendo sets out into the streets to fins a way out of the infected city. On his way, a new type of poisonous zombie stands between him and freedom.
Runaway
Way before the events of Resident Evil 2 took place, the fate of the mayor's daughter, Katherine, was already sealed. In this scenario, her story takes her down a very different path. Seeking to escape Raccoon City with a certain someone, Katherine Warren must navigate the streets while avoiding a strangely mutated type of zombie that can only be stopped with particularly powerful ammunition. Play carefully, and you might survive.
Forgotten Soldier
Thought to have been wiped out with his squad, this forgotten U.S.S. agent, appropriately named Ghost, is attempting to escape a laboratory underneath the city. He will have to deal with hordes of monsters covered in armor. Capcom said this is a particularly "challenging scenario." Best of luck with it.
The new DLC arrives on February 15th as a free update.
Jump Force Roadmap Revealed
Bandai Namco has dropped a content roadmap for Jump Force ahead of it's free update in April.
Check out the roadmap below:
No Man's Sky Next Expansion is 'Beyond'
Hello Games has announced that the next major update to No Man's Sky, which it says it it's "most ambitious chapter yet", will arrive this summer.
'Beyond' will change the way players come together, offering "radical new ways" to explore the universe.
The Division 2: Clan System Breakdown
The Division 2 is now officially launched and with it comes a brand new clan system in which you can create and manage your very own group of agents in an "exclusive club" that allows you to recruit members, allowing up to 50 accounts with up to four characters each.
Ubisoft released the following information regarding the new Clan system:
The Division 2 – Clan System
How to Join a Clan in The Division 2
When searching for a clan, a number of options will be available to help you find one that best suits your particular needs or playstyle.
Activities: The primary focus of the clan, PvE, PvP or both.
Most Active Times : The time of day the clan is the most active.
Atmosphere: The general atmosphere of the clan. This will indicate whether a particular group is relaxed and easy-going clan, focused on certain aspects, or a highly competitive PvP clan.
Mic Requirement: If the clan requires a microphone to be able to join.
Language:The primary spoken language of the clan.
Region: The geographical location of the clan members.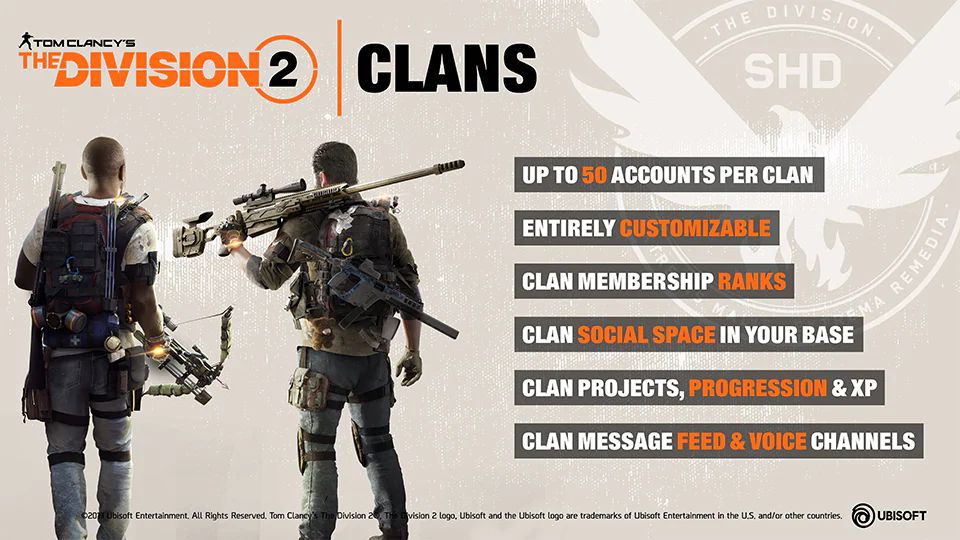 Creating and Managing a Clan in The Division 2
When creating a clan, you will start off with designing an insignia. There will be various options to choose ranging from icons, a background and border types to create your own unique design.
Once you have created an insignia, it's time to give your group a name. A clan name can be between 4 to 15 letters long and the clan tag, which is visible to all players, consists of three capitalized letters. You can also write a presentation to introduce your clan to your players.
Each clan is also able to set a preferred privacy level which consists of the following:
Open – Searchable and open for all players.
Invite Only – Searchable but requires an application to be sent and reviewed by clan leadership.
Private – A private clan is not searchable and can only be joined through an invite sent by the clan's leadership.
Clan membership is also organized into four ranks, which will help tremendously with organisation and structure:
Commander – The leader of the clan which has access to all administrative functions of the clan.
Lieutenant – The officer rank, which will be able to send out invites, review applications, promote and demote members as well as moderate the clan feed.
Agent – The established clan member able to invite potential recruits to the clan.
Recruit – The recruit is a new member of the clan with limited access to administrative clan functionality.
When reviewing applications as a Commander or Lieutenant, you will be able to inspect the applicant's characters and have a look at their gear.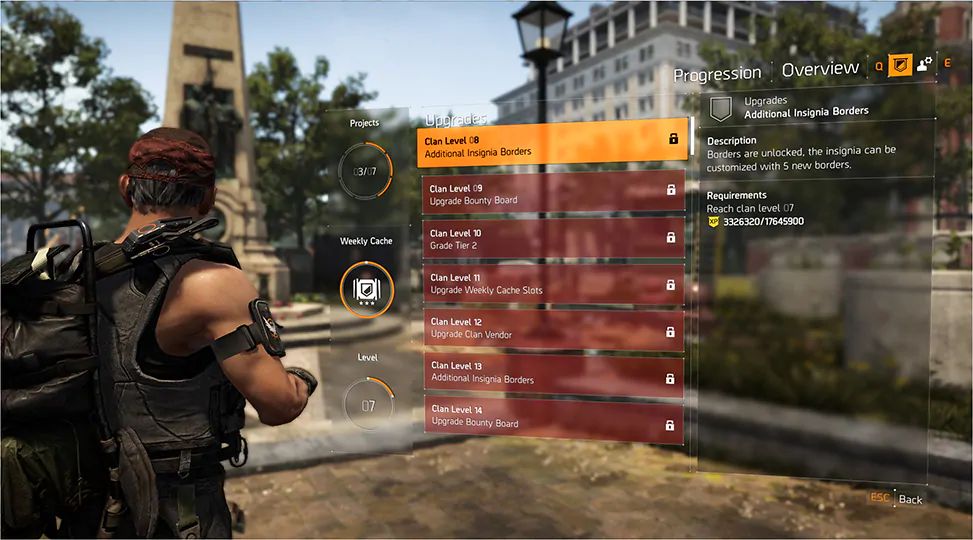 Clan Progression in The Division 2
All in-game actions taken by members which provide experience points will alsoyield Clan XP (CXP). Earning experience will help your clan level, which in turn provides additional benefits for each level the clan reaches up to level 30. CXO will also unlock additional customization options for the insignia, showcasing your clan's veterancy.
Clans will also work together toward common goals such as weekly projects and a clan cache which can be upgraded. Both will rewards members upon completion. The weekly clan cache requires a weekly CXP goal to be reached with additional stretch goals.
There are three tiers of reward: bronze, silver and gold. Reaching bronze unlocks guaranteed rewards, while reaching silver and gold will further improve the week's rewards.
Clan projects are weekly tasks and will boost your CXP upon completion, and each focuses on a particular aspect of the game. Should your clan complete all weekly projects, it will receive an additional, large amount of CXP.
Clan Quarters in The Division 2
Ever dreamed what it would be like living in the White House? Well, dream no more, my loves: this is where your clan will hang out.
Over in the East Wing of the White House, your clan will have its own space to socialize and regroup. Here is where you will find all of the clan stash to collect your weekly rewards, look over the clan bounty board, and interact with the clan vendor once reaching clan level 2.
As part of the clan's level progression, the quality of items offered by the clan vendor will improve. Certain levels will also unlock the ability to purchase cosmetic headgear sporting your insignia. Neat.
OTHER STORIES ON VG247
:: Devil May Cry 5 has a censored scene in the West – but only on PS4 – VG247
:: Watch the reveal of The Master Chief Collection on PC – and possibly the disc-less Xbox
The clan quarters is also where you'll be able to see your clan's three, weekly top CXP contributors. Nothing like giving your members a bit of recognition for their accomplishments, right?
Massive said there will be more to discover in the clan quarters, but they are keeping things secret until the game releases.