Minecraft Updates Adds Bamboo, Scaffolding, Pandas, Redesigned Cats, More
Minecraft has released a brand new update, update 1.8.0, and it comes with a number of notable changes.
Here are the full patch notes:
Minecraft – Bedrock update 1.8.0 patch notes
New Features
Pandas now spawn in jungles where they roll, lounge, and laze around
Stray cats now spawn in villages

Cats can be tamed using fish
Ocelots are no longer tameable
Players can now feed ocelots to gain their trust

Bamboo can now be found while fishing in jungles and will appear in some chests (Spawning naturally in the world will come in a future update)
Scaffolding – A climbable block that can be crafted using bamboo
New Achievements
Where have you been? – Receive a gift from a tamed cat in the morning (20G)
Top of the World – Place scaffolding to the word limit (20G)
Zoologist – Breed two pandas with bamboo (40G)
Added
randomTickSpeed game rule
For Map Makers and Add-On Creators
Updated templates for 1.8.0 with new assets and behaviors can be downloaded from minecraft.net/addons
Updates to Add-Ons that allow players to add new entities, particles, and animations. See aka.ms/MinecraftAddons for more details and enable Experimental Gameplay in your world!
Functions have come to Bedrock! Functions allow players to write the commands their worlds use in an external file, not just Command Blocks. See the Minecraft Wiki for more information
Experimental Gameplay
(Only available when Experimental Gameplay is enabled in world settings)
Crossbow weapon with new enchantments
Multishot
Piercing
Quick Charge
Changes
Phantoms are now afraid of cats and will not swoop down while cats are around
Increased the size of Tropical fish (MCPE-35877)
Skeleton Horse and Zombie Horse foals now have a chance of being spawned using a spawn egg
Added a crafting recipe for Packed Ice
Separated Bone Meal, Ink Sac, Cocoa Beans, and Lapis Lazuli into their own dyes and unified all dye names
The splash screen now has an animated loading bar
The following commands can now be run in-game without enabling cheats:

/gamerule showcoordinates
/gamerule dofiretick
/gamerule tntexplodes
/gamerule domobloot
/gamerule naturalregeneration
/gamerule dotiledrops
/gamerule pvp

A warning now appears when attempting to change settings on a world template, as it could change the creator's intended experience
Command blocks now have the default name of ! instead of @
More skin packs are now shown in the skin picker menu, and each pack can be opened and viewed in its own page
The autocomplete list for player mentions now works in slash commands
The Remix3D upload service on Windows 10 is no longer available, but creations can still be exported as .glb 3D Object files
Text-to-Speech can now be enabled on Nintendo Switch
Minecraft Marketplace:

Content can now be sorted by 'Updates Available' in your inventory
Content can now be sorted and filtered by rating when browsing the Marketplace
Bundles of content can now be purchased
Fixes
Crashes/Performance
Fixed several crashes that occurred during gameplay
Fixed a crash that would occur if the player was disconnected while loading resource packs
Fixed a crash that would occur on Xbox One if the player signed out too quickly after signing in
Fixed a crash that could occur during the splash loading screen on Windows 10 Mobile
Fixed a crash that could occur on startup for Gear VR
Fixed a crash that could occur due to a recent Windows 10 update (MCPE-36274)
Fixed a crash that occurred when hovering over a renamed firework charge (MCPE-37822)
Using a bucket of fish in a dispenser no longer crashes the game (MCPE-38194)
Fixed a crash that would occur when using lava buckets on fish
Fixed a crash that could occur when kelp grows
Fixed a crash that could occur when suspending and resuming the game on the main menu (154576)
Fixed a crash that could occur in worlds that contained locator maps
Fixed a crash that could occur when leaving the Realms settings screen
Fixed a crash that could occur when downloading or saving data on Nintendo Switch
Fixed a crash that could occur on Switch when split screen players broke a large chest
Fixed a crash that occurred when killing and summoning a salmon with its navigation component removed
Improved performance on some devices with less available memory
Fixed a bug where multiple UI screens could be opened at once, causing the game to crash
Shulker boxes that contain tropical fish buckets no longer cause performance issues (MCPE-27167)
Fixed a bug that caused a significant performance drop when rendering chunks (MCPE-37192)
Improved the loading time of various game files
Fixed delayed touch response on the bottom of the screen on iOS (MCPE-29718)
General
Fixed the bug where the player would unexpectedly turn in a random direction on touch screens (MCPE-35910)
The "Body Guard" achievement can once again be unlocked after creating an Iron Golem (MCPE-33686)
Fixed an issue with custom player permissions that might not apply correctly in multiplayer (MCPE-34864)
Worlds larger than 1GB can now be copied and exported on Windows 10 (MCPE-37269)
Fixed an error that occurred when attempting to start a split screen session with a guest on Xbox One
Split screen players no longer get stuck on the loading screen when re-joining Old worlds
Gameplay
Lightning no longer strikes if the destination is in a cold biome (MCPE-19015)
Players will no longer teleport when standing against a non-full block and reloading the game (MCPE-31242)
Fixed rare enchantments being too hard to get at higher levels
Potion of Slow Falling will now slow down Elytra descent (MCPE-34926)
The player locator map marker now faces the right direction when aboard a boat
Players will now face forwards when entering a boat (MCPE-36795)
Explosions will now drop blocks if the default game mode is Creative and Tile Drops are enabled (MCPE-23498)
Planting crops continuously will no longer skip blocks (MCPE-35857)
Items
Fixed a bug where only white firework stars could be crafted
Crafting multiple cakes using the recipe book will now return the correct amount of empty buckets to the player (MCPE-37387)
Dyed beds now have the correct crafting recipe
Fixed an exploit where rails could be duplicated (MCPE-36917)
Fixed an exploit that allowed Tridents to be duplicated (MCPE-37900)
Fixed Enchanted Tridents being lost from anvils following a server disconnect (MCPE-37526)
Flower pots that contain saplings will once again drop the correct type when broken (MCPE-37328)
Mobs
Blocks
Realms
Fixed the bug where players on Realms could be instantly killed in one shot by a Blaze fireball attack (MCPE-19535)
Graphical
Fixed a bug that caused horses (and variants) to show flashing colors on certain devices (no more disco horses!) (MCPE-31726)
Fixed a bug where players could see through solid blocks when swimming
Water now renders correctly when surrounded by Barrier Blocks
Wall signs no longer show different types of wood particles when being broken (MCPE-16141)
Fixed an issue that would sometimes cause black visual glitches to appear around blocks when riding a horse
The player's hands are now properly rotated and positioned when aboard a boat and holding a bow
Fixed the Ghast projectile firing animation
Audio
Ghast sounds are no longer repeated when they are shooting fireballs (MCPE-19156)
User Interface
Multiple items can be collected when trading with villagers again when using touch controls (MCPE-32635)
Fixed incorrect interact buttons appearing briefly for certain mobs on touch screen devices
The right bumper button now correctly scrolls through the tabs in the game menu on Nintendo Switch
Reassigned Page Up and Page Down keys are now labelled correctly on the Settings screen
The multiplayer toggle is now accurately shown when using platform restricted content on Xbox One and Nintendo Switch
The Achievements button no longer appears in the pause menu if not signed into Xbox Live
Controller hints now show the correct usage of "Open" and "Use" when looking at containers
Health Boost and Absorption effects no longer have the same icon
Fixed the buttons used on the startup message for players using Windows Mixed Reality
Removed "MCPE!" from the list of splash screen messages (MCPE-36741)
Search results in the Marketplace are now more consistent when searching through all content
Only templates are suggested in the "Get More Templates" menu now
Fixed incorrect message when accepting an invite from a notification on Nintendo Switch with certain parental controls set
Commands
Running the 'title' and 'subtitle' commands will once again override any titles and subtitles currently on screen
Relative coordinates in commands are once again consistent below 3 on the y-axis (MCPE-35130)
Using Shift + Tab to reverse cycle through slash command auto-complete suggestions now properly cycles to the end of the list
Lava blocks no longer appear green in the command autocomplete area (MCPE-33788)
Player names that are made up of only numbers are now surrounded with quotation marks when using autocomplete for slash commands
Add-Ons:
'minecraft:navigation.walk' can now be used in component groups without causing the game to crash
Added a underscore to "frozen_river" in the 'biomes_client.json' file so it matches the other vanilla Resource Pack entries (MCPE-36799)
Jump Force Roadmap Revealed
Bandai Namco has dropped a content roadmap for Jump Force ahead of it's free update in April.
Check out the roadmap below:
No Man's Sky Next Expansion is 'Beyond'
Hello Games has announced that the next major update to No Man's Sky, which it says it it's "most ambitious chapter yet", will arrive this summer.
'Beyond' will change the way players come together, offering "radical new ways" to explore the universe.
The Division 2: Clan System Breakdown
The Division 2 is now officially launched and with it comes a brand new clan system in which you can create and manage your very own group of agents in an "exclusive club" that allows you to recruit members, allowing up to 50 accounts with up to four characters each.
Ubisoft released the following information regarding the new Clan system:
The Division 2 – Clan System
How to Join a Clan in The Division 2
When searching for a clan, a number of options will be available to help you find one that best suits your particular needs or playstyle.
Activities: The primary focus of the clan, PvE, PvP or both.
Most Active Times : The time of day the clan is the most active.
Atmosphere: The general atmosphere of the clan. This will indicate whether a particular group is relaxed and easy-going clan, focused on certain aspects, or a highly competitive PvP clan.
Mic Requirement: If the clan requires a microphone to be able to join.
Language:The primary spoken language of the clan.
Region: The geographical location of the clan members.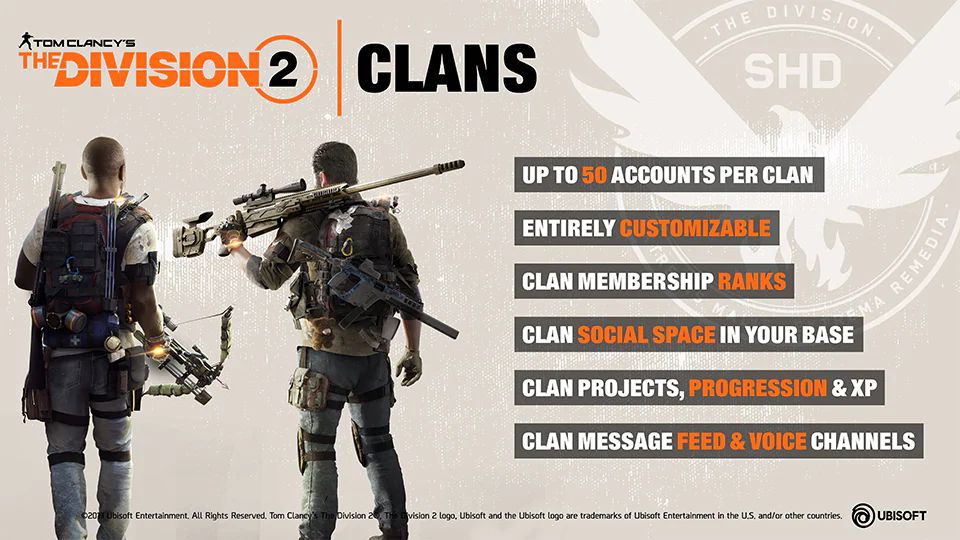 Creating and Managing a Clan in The Division 2
When creating a clan, you will start off with designing an insignia. There will be various options to choose ranging from icons, a background and border types to create your own unique design.
Once you have created an insignia, it's time to give your group a name. A clan name can be between 4 to 15 letters long and the clan tag, which is visible to all players, consists of three capitalized letters. You can also write a presentation to introduce your clan to your players.
Each clan is also able to set a preferred privacy level which consists of the following:
Open – Searchable and open for all players.
Invite Only – Searchable but requires an application to be sent and reviewed by clan leadership.
Private – A private clan is not searchable and can only be joined through an invite sent by the clan's leadership.
Clan membership is also organized into four ranks, which will help tremendously with organisation and structure:
Commander – The leader of the clan which has access to all administrative functions of the clan.
Lieutenant – The officer rank, which will be able to send out invites, review applications, promote and demote members as well as moderate the clan feed.
Agent – The established clan member able to invite potential recruits to the clan.
Recruit – The recruit is a new member of the clan with limited access to administrative clan functionality.
When reviewing applications as a Commander or Lieutenant, you will be able to inspect the applicant's characters and have a look at their gear.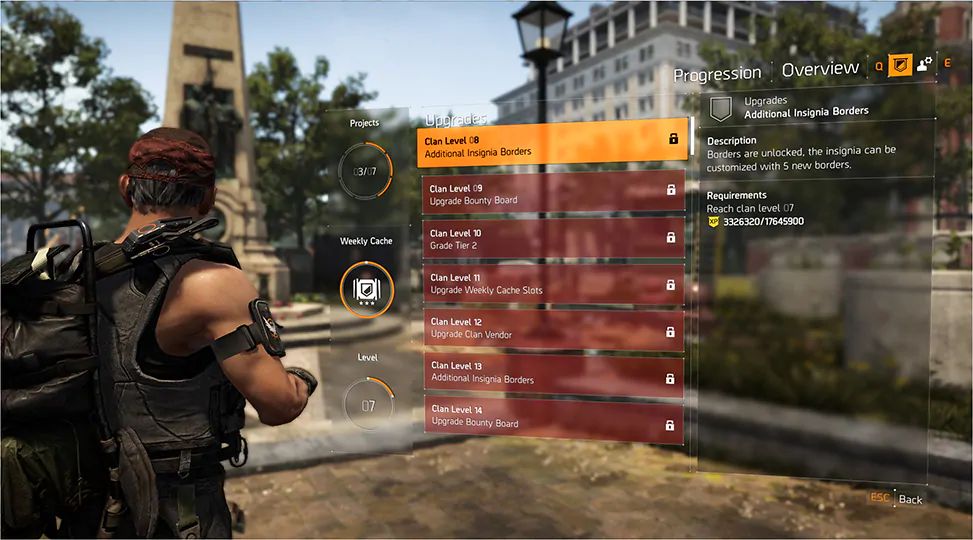 Clan Progression in The Division 2
All in-game actions taken by members which provide experience points will alsoyield Clan XP (CXP). Earning experience will help your clan level, which in turn provides additional benefits for each level the clan reaches up to level 30. CXO will also unlock additional customization options for the insignia, showcasing your clan's veterancy.
Clans will also work together toward common goals such as weekly projects and a clan cache which can be upgraded. Both will rewards members upon completion. The weekly clan cache requires a weekly CXP goal to be reached with additional stretch goals.
There are three tiers of reward: bronze, silver and gold. Reaching bronze unlocks guaranteed rewards, while reaching silver and gold will further improve the week's rewards.
Clan projects are weekly tasks and will boost your CXP upon completion, and each focuses on a particular aspect of the game. Should your clan complete all weekly projects, it will receive an additional, large amount of CXP.
Clan Quarters in The Division 2
Ever dreamed what it would be like living in the White House? Well, dream no more, my loves: this is where your clan will hang out.
Over in the East Wing of the White House, your clan will have its own space to socialize and regroup. Here is where you will find all of the clan stash to collect your weekly rewards, look over the clan bounty board, and interact with the clan vendor once reaching clan level 2.
As part of the clan's level progression, the quality of items offered by the clan vendor will improve. Certain levels will also unlock the ability to purchase cosmetic headgear sporting your insignia. Neat.
OTHER STORIES ON VG247
:: Devil May Cry 5 has a censored scene in the West – but only on PS4 – VG247
:: Watch the reveal of The Master Chief Collection on PC – and possibly the disc-less Xbox
The clan quarters is also where you'll be able to see your clan's three, weekly top CXP contributors. Nothing like giving your members a bit of recognition for their accomplishments, right?
Massive said there will be more to discover in the clan quarters, but they are keeping things secret until the game releases.