Fortnite v7.01 Update Arrives
A brand new update for Fortnite has arrived and it comes with some shiny new weapons, including the Infinity Blade.
Alongside the Infinity Blade is a brand new weapon called Ralphie's Revenge, a rifle that provides bonuses for any headshot kills that you rack up.
Also, get ready for  close quarters combat with Shotguns and Jetpacks in the new LTM, Close Encounters.
Here are the full patch notes:
Fortnite Battle Royale
Limited Time Mode: Close Encounters
Summary: Close quarters combat with Shotguns & Jetpacks!
The only weapons in this mode are Shotgun variants.
Jetpacks & Heavy Shotguns can be found in chests & Supply Drops.
Other Shotgun variants are spawned as floor loot.
The Storm moves in more quickly than normal at mid to late game.
Typical match length is about 15 minutes.
Stats are enabled for this mode.
Weapons and items
Infinity Blade
This Mythic melee weapon can be found on Polar Peak.
Primary Fire delivers a powerful sword slash. It deals big damage to enemies and destroys structures in one blow (75 damage to players).
Alternate Fire allows the player to leap great distances, destroying objects in its path. Upon landing, it delivers damage and a knock-up to nearby players (25 damage).
The wielder of the sword is also granted additional abilities:
An increased pool of max Health and Shields (200 Health/200 Shields).
Regeneration of effective Health over time up to max Health and Shields (1 HP per second).
An instant burst of effective Health upon elimination of an enemy (50 HP).
Increased movement speed (130%).
The first player to pull the Infinity Blade from its pedestal will be instantly healed to full Health and Shields.
If a player picks up the Infinity Blade, all other inventory items aside from building materials will be dropped.\
When the wielder of the Infinity Blade picks up an item (aside from building materials), the Infinity Blade will be dropped.
The Infinity Blade will be dropped when the wielder is knocked out or eliminated.
Only one Infinity Blade will appear per match.
Gameplay
X-4 Stormwing
When a plane is shot down, the driver and all passengers of that plane will now take 25 damage from the explosion.
Speculative fix for players moving after being eliminated.
Fixed players being ejected from vehicles if they lost the icy feet effect.
Fortnite Creative
Islands
The Block
New 5th Island to build on. Provides the exact block that appears in Battle Royale where your creation could appear.
Featured Islands
Added 4 featured island Rifts. Featured islands will be changed over time as we feature the communities creations. Featured maps can be played the rules are set by the creator. Also, use the featured rifts to enter codes from other creators.
Island Codes system
Use codes to load creations that have been shared with the Island Code system.
Initially, only a limited number of players in the Support a Creator program will have access to this feature.
Over time we will expand the number of players that can publish islands as we polish this feature.
To use a code, go to a Feature Rift and select "Enter Code" and follow the instructions.
Post your creations to Reddit, Youtube, Twitch, or any of our other social channels! We may reach out and provide you the ability to publish your creation.
Fixed an issue where respawning on Creative Hub could cause your player to leave the Island.
Fixed various problems with Island Rifts not functioning correctly.
Fixed Island Rifts not showing the correct Island name and player count in some cases.
Fixed an issue that prevented player inventory from being reset when returning to Creative Hub.
Fixed players appearing to fall through the ground in Replays when teleporting between islands.
Fixed bug where the same friend's server could appear multiple times in Creative server select.
Fixed an issue that prevented players from placing building tiles on certain islands.
Fixed an issue where players would not be able to spawn on your island when building tiles or props were in the way.
Prefabs
6 New Lucky Landing Prefabs
Obstacle Course
The Obstacle Course gallery was split into four separate gallery Prefabs: Floors, Walls, Roofs & Stairs and Parts.
New props were added to the Parts gallery. Go check it out!
Indestructible Gallery
This gallery contains props that cannot be destroyed by weapons.
New indestructible props and building tiles were added to this gallery Prefab.
A few other Prefabs were updated with new building tiles and props.
Devices
New: Item Spawner – Drop any item on this device to have it spawn one item at a time during games.
New: Player Checkpoint Plate – Run across the checkpoint during a game and the next time you die you'll respawn there.
Player Spawn device can now be customized to spawn only players on a specific team number. The team number is displayed on the plate (except when in the game is in progress.)
Player Spawn device can now be set to be an Island Start instead of a game start. This can be used to set where players arrive when they visit your island when not in Play mode.
Bug Fixes
Fixed issues with multiple devices able to be placed on top of one another.
Fixed Damage Rails being able to be placed on top of themselves.
Fixed vehicles not being removed when their Vehicle Spawner is deleted.
Fixed a problem that could cause devices to malfunction after being saved and loaded.
Fixed certain devices becoming indestructible after loading your Island on a new server.
Gameplay
New settings in "My Island" menu:
"Starting Health" can now be set to "Invincible".
This prevents players from taking any damage on your island.
"Building Damage in Game"
This can be disabled to prevent island structures from being damaged in game.
Has no effect on structures built by players during the game.
"Block Building in Game"
When enabled, players will not be able to use
When stopping a game, players are now returned to where they were before the game started.
Player inventory is now reset when a game is started and also after it finishes.
Fixed games being called "Minigames" in the UI in some places.
Fixed eliminated players respawning on the same spawn pad in some cases.
Fixed the "Down But Not Out" game setting not functioning correctly.
Fixed players not being able to damage structures in game after editing privileges were revoked by the island owner.
Fixed a bug where disabling falling damage would not be remembered when loading your island.
Creative tools and phone
Added Collision option
Collision can now be turned on and off when moving props.
Toggle collision using V (Hold) on a desktop, or D-Pad Left (Hold) on a controller.
When collision is off, props can be freely moved through any other object (but not under terrain!)
Grid Snap
Snap now uses better settings for each individual prop. This allows props to align better to the Fortnite world grid.
Renamed help text for certain actions to be more clear
"Pick up" is now "Cut"
While holding something, "Copy" is now "Paste"
Your phone's settings are now remembered as you move between islands, respawn, or play games on islands.
Vehicles can no longer be deleted while players are using them.
Added some additional sound effects when toggling options on the phone.
Bug Fixes
Fixed props and building tiles being able to be placed outside of the island's saveable area.
Fixed props sometimes not placing exactly where the hologram preview shows it will when the Drops option was enabled.
Fixed an issue with grid snap where props would not actually align to the grid when placing them down quickly.
Fixed various problems when interacting with mirrored building tiles.
Fixed some issues with placement of props being denied unexpectedly.
Fixed an issue where props could vanish after you pick them up.
Fixed some props that were not able to be moved using the Phone.
Fixed hologram animations not playing on certain props when you pick them up.
Fly
You can now switch to Fly while your Glider is deployed by double-tapping the Jump button.
Holding down the Jump button on will now consistently fly upwards, even on a keyboard.
Improved Fly animations, especially when using items or interacting.
Fixed Bouncers being destroyed when flying on top of them.
Fixed certain Devices not affecting respawned players who were eliminated while flying.
Teams
Players will now be on the same team (and voice channel) when entering a server.
Players who join a session in progress will now always be added to Team 1.
Players are now spread evenly between available team spawns when possible.
Players on the same team will now see team identifiers during a game.
Removed redundant Team Spawn Pads option.
Fixed players not all starting on the same team when first entering an Island.
Fixed players not being on correct teams when starting a game.
Fixed players being able to switch teams while in the middle of a game.
Fixed players not being able to switch to specific teams in some cases.
Weapons and items
Bug Fixes: Fixed not being able to stack Port-a-Fortress grenades in Creative.
UI and social
Added a new tutorial pop-up to inform users about changing island permissions when another player joins the session.
Players can no longer join your session in progress when your party is set to private.
Fixed wrong Creative server being selected in some cases when choosing a server using a controller.
Interacting with chests and Supply Llamas now takes the intended amount of time.
Fixed the Creative Inventory not being displayed while skydiving or gliding.
Fixed issue where wrong elimination counts could be displayed on game-ending scoreboard.
Fixed the wrong number of players showing next to names in the friend list.
Fixed friends' servers showing on Creative server select after they become empty.
Fixed the post-game scoreboard not being able to accommodate 16 separate teams.
Fixed various issues with friend status in Creative and player counts.
Fixed being able to access Creative Inventory when in the Creative Hub in certain cases.
Fixed various problems with in-game tutorial pop-ups
Players are no longer brought to the Battle Royale lobby when clicking "Creative" in the game mode select screen.
Performance
Improved the load times of island content when first starting a server.
To improve server performance, the maximum number of Vehicle Spawners on an island has been limited to 32.
Reduced memory usage when switching between Islands on the same server.
Improved performance of particle systems with large numbers of placed traps.
Mobile
Added a new button that toggles Collision on the Phone.
Added new states to some creative buttons to make their actions more clear.
Fixed the "Memory Used" bar being covered up by other mobile UI.
Save the World
Missions and systems
Bug Fixes: Storm Shield Defenses no longer grant reduced primary rewards if the 80% health bonus objective is failed.
Weapons and items
Ralphie's Revenge is returning and will be available in the Weekly Store
Accurate and slow firing air rifle that has a massive headshot bonus. Remember to always wear your eye protection!
Available from December 12 at 7 PM ET until December 19th 7 PM ET.
Jump Force Roadmap Revealed
Bandai Namco has dropped a content roadmap for Jump Force ahead of it's free update in April.
Check out the roadmap below:
No Man's Sky Next Expansion is 'Beyond'
Hello Games has announced that the next major update to No Man's Sky, which it says it it's "most ambitious chapter yet", will arrive this summer.
'Beyond' will change the way players come together, offering "radical new ways" to explore the universe.
The Division 2: Clan System Breakdown
The Division 2 is now officially launched and with it comes a brand new clan system in which you can create and manage your very own group of agents in an "exclusive club" that allows you to recruit members, allowing up to 50 accounts with up to four characters each.
Ubisoft released the following information regarding the new Clan system:
The Division 2 – Clan System
How to Join a Clan in The Division 2
When searching for a clan, a number of options will be available to help you find one that best suits your particular needs or playstyle.
Activities: The primary focus of the clan, PvE, PvP or both.
Most Active Times : The time of day the clan is the most active.
Atmosphere: The general atmosphere of the clan. This will indicate whether a particular group is relaxed and easy-going clan, focused on certain aspects, or a highly competitive PvP clan.
Mic Requirement: If the clan requires a microphone to be able to join.
Language:The primary spoken language of the clan.
Region: The geographical location of the clan members.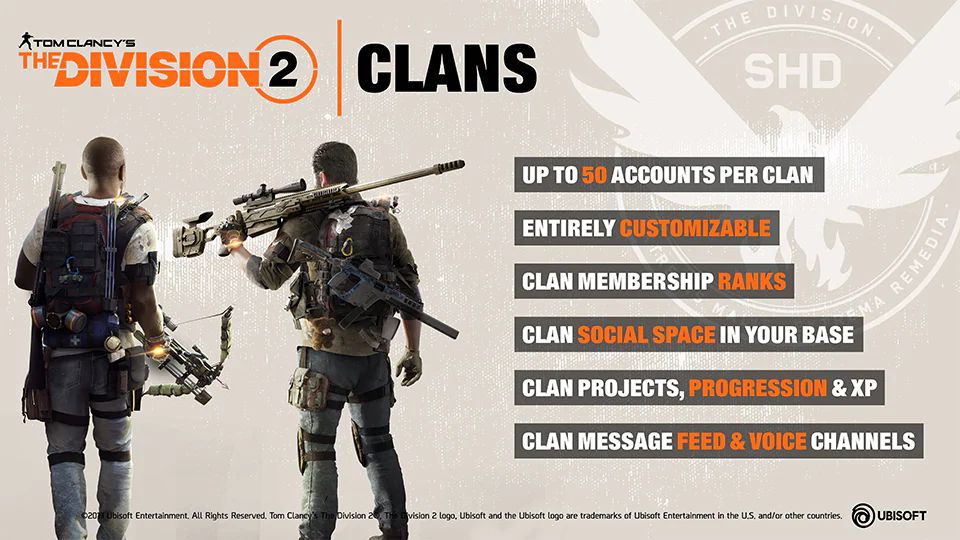 Creating and Managing a Clan in The Division 2
When creating a clan, you will start off with designing an insignia. There will be various options to choose ranging from icons, a background and border types to create your own unique design.
Once you have created an insignia, it's time to give your group a name. A clan name can be between 4 to 15 letters long and the clan tag, which is visible to all players, consists of three capitalized letters. You can also write a presentation to introduce your clan to your players.
Each clan is also able to set a preferred privacy level which consists of the following:
Open – Searchable and open for all players.
Invite Only – Searchable but requires an application to be sent and reviewed by clan leadership.
Private – A private clan is not searchable and can only be joined through an invite sent by the clan's leadership.
Clan membership is also organized into four ranks, which will help tremendously with organisation and structure:
Commander – The leader of the clan which has access to all administrative functions of the clan.
Lieutenant – The officer rank, which will be able to send out invites, review applications, promote and demote members as well as moderate the clan feed.
Agent – The established clan member able to invite potential recruits to the clan.
Recruit – The recruit is a new member of the clan with limited access to administrative clan functionality.
When reviewing applications as a Commander or Lieutenant, you will be able to inspect the applicant's characters and have a look at their gear.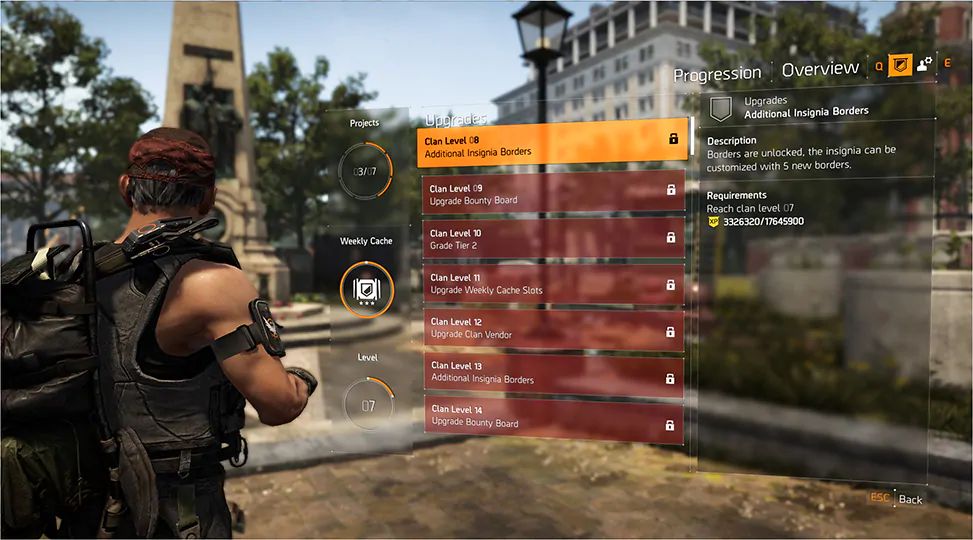 Clan Progression in The Division 2
All in-game actions taken by members which provide experience points will alsoyield Clan XP (CXP). Earning experience will help your clan level, which in turn provides additional benefits for each level the clan reaches up to level 30. CXO will also unlock additional customization options for the insignia, showcasing your clan's veterancy.
Clans will also work together toward common goals such as weekly projects and a clan cache which can be upgraded. Both will rewards members upon completion. The weekly clan cache requires a weekly CXP goal to be reached with additional stretch goals.
There are three tiers of reward: bronze, silver and gold. Reaching bronze unlocks guaranteed rewards, while reaching silver and gold will further improve the week's rewards.
Clan projects are weekly tasks and will boost your CXP upon completion, and each focuses on a particular aspect of the game. Should your clan complete all weekly projects, it will receive an additional, large amount of CXP.
Clan Quarters in The Division 2
Ever dreamed what it would be like living in the White House? Well, dream no more, my loves: this is where your clan will hang out.
Over in the East Wing of the White House, your clan will have its own space to socialize and regroup. Here is where you will find all of the clan stash to collect your weekly rewards, look over the clan bounty board, and interact with the clan vendor once reaching clan level 2.
As part of the clan's level progression, the quality of items offered by the clan vendor will improve. Certain levels will also unlock the ability to purchase cosmetic headgear sporting your insignia. Neat.
OTHER STORIES ON VG247
:: Devil May Cry 5 has a censored scene in the West – but only on PS4 – VG247
:: Watch the reveal of The Master Chief Collection on PC – and possibly the disc-less Xbox
The clan quarters is also where you'll be able to see your clan's three, weekly top CXP contributors. Nothing like giving your members a bit of recognition for their accomplishments, right?
Massive said there will be more to discover in the clan quarters, but they are keeping things secret until the game releases.