Destiny 2: Forsaken Patch 2.0.0
Destiny 2: Forsaken will officially arrive on PC, Playstation 4, and Xbox One next week and Bungie is prepping for the big launch with the unveiling of the day one patch, update 2.0.0 and the Last Wish raid.
Changes by Class
Hunter

Marksman's Dodge is now considered a reload; it can interact with Kill Clip, Rat King, etc.
Exotic armor:

Celestial Nighthawk

Will grant 33% of your Super energy back if a target is killed by the Golden Gun shot

Wormhusk Crown

Will no longer start regeneration of health and shields
Instead will grant a larger health and shield bump at the beginning of dodge instead of at the end

Warlock

Increased Healing Rift effectiveness
Empowering Rift now increases precision damage (previously, bonus damage was capped at the weapon's precision damage in PvP)
Exotic armor:

Skull of Dire Ahamkara

Increased Super energy gained from Nova Bomb kills
Killing higher-ranked enemies will grant more Super energy

Transversive Steps

Enhanced mobility
After you sprint for a short time, your currently equipped weapon will be automatically reloaded

Titan

Rally Barricade no longer requires players to take cover to reload—it now feeds ammo to your magazine over time
Exotic armor:

Helm of Saint-14

Now grants allies an overshield for a short duration when they're passing through Ward of Dawn

Mask of the Quiet One

Increasing energy gain from incoming damage
While critically wounded, health will be granted from kills

Grenades

Axion Bolt

Increased base damage
Increased the amount of time it takes for tracking strength to lessen

Flashbang

Increased base damage
Incendiary Grenade
Increased base damage

Storm Grenade
Scatter Grenade

Re-tuned range and falloff ranges for the detonations for more reliable damage

Magnetic, Fusion, and Flux Grenade

Increased base damage
Damage is now the same whether a target has been stuck or simply walked over grenade when detonating
Magnetic Grenade now detonates a second time only if it's attached to a target
The second detonation no longer only occurs on the grenade itself and will now be applied to each individual target hit by the initial detonation

Skip Grenade

Increased impact damage of each Skip Drone impact for a higher total potential damage

Void Wall

Increased the damage of initial Void Wall wave

Misc QOL

Swords will have the ability to accept shaders
Adding a timer to the status effect for Healing Rift, Empowering Rift, and Rally Barricade to communicate the time remaining before they expire
Wanted escapees from the Prison of Elders will roam the open world

They will not drop rewards until September 4, 2018

Increasing the difficulty of Lost Sectors

Example: EDZ Lost Sectors will become 240 Power

Xûr

His will is not his own

Will no longer display a vendor icon on destination maps
Will no longer be tied to Flashpoints

He has a clear purpose but cannot explain it—forgive him

Fated Engrams will grant only pre-Forsaken Exotics
Destiny 2 Update 2.0.0
On Tuesday, August 28, Destiny 2 will receive Update 2.0.0. This update will introduce changes in preparation for the launch of Forsaken and will be the official conclusion to Solstice of Heroes. For the Update 2.0.0 deployment schedule, please see the times listed below.
On Tuesday, August 28:
9:30 AM PDT: Players will no longer be able to log into Destiny 2
9:45 AM PDT: Destiny 2 will be taken offline for maintenance, and all players will be returned to the title screen

At this time, Solstice of Heroes will end, and Moments of Triumph will no longer be available

10 AM PDT: Destiny 2 Update 2.0.0 will begin rolling out across all platforms and regions
10 AM–2 PM PDT: Destiny 2 will remain offline for maintenance
2 PM PDT: Destiny 2 maintenance is expected to conclude
Players should be aware that at 9:45 AM PDT, they will no longer be able to access Destiny 2 or participate in Solstice of Heroes and Moments of Triumph. Players with lingering objectives and unclaimed rewards should act now to make sure nothing is missed when this maintenance begins.
Update 2.0.0 System Changes

Players should be aware of the following changes to the game experience following Update 2.0.0 on 8/28:

Year 2 Weapon Slots will be live for all players

During this transition, weapons that overflow players' inventories will be sent to the Postmaster
Year 1 slots equipped with weapons that are moved during this update will remain empty until players equip another weapon
The following Year 1 Power weapons will become Kinetic in Year 2

Alone as a God
Baligant
The Frigid Jackal
Hawthorne's Field-Forged Shotgun
Perfect Paradox
Shepherd's Watch
Silicon Neuroma

The following Year 1 Power weapons will have their elemental attribute changed and locked to Solar for Year 2

IKELOS_SG_V1.0.1
IKELOS_SR_v1.0.1

The following Year 1 Exotic Power weapons will remain in the Power slot, as exceptions to Year 2 weapon slot changes

D.A.R.C.I.
Legend of Acrius
Tractor Cannon
Whisper of the Worm

All other Year 1 Energy and Power weapons will have their elemental attribute locked for Year 2
New ammo economy will be live to support Year 2 weapon slots

Exotic weapons, armor, and emblem collections will become unavailable until 9/4

Players should grab their desired items before 8/28
Updated collections will return on 9/4

Some tooltips may not reflect actual item behavior during the 8/28–9/4 transition, examples include:

The perk description for Thin the Herd on Fighting Lion will incorrectly list old behavior of dropping Energy ammo
The perk description for Bring the Heat on Ashen Wake will erroneously list non-existent perk functionality mentioning recharging grenade energy
The perk description for Triple Tap will incorrectly describe old behavior of pulling ammo from reserves

Exotic weapons will lose their +5 Power mods in preparation for 9/4

All remaining Legendary and Exotic gear will lose their +5 Power starting on 9/4
Year 1 armor mods will be deprecated entirely starting on 9/4

Nightfalls will not feature strike scoring until 9/4

For the full 

Destiny 2

 Update 2.0.0 patch notes on 8/28, players should keep an eye on our 

Updates page

 or follow 

@Bungie 

on Twitter for live announcements.

Trials of the Nine

Following the weekend of August 24, Trials of the Nine will be on hiatus and the Trophy/Achievement "Lest Ye Be Judged" will not be available to players who have not yet unlocked it.

Players who wish to unlock this Trophy/Achievement before Trials of the Nine goes on hiatus will need to win 1 Trials of the Nine match this upcoming weekend of August 24 and meet the Emissary of the Nine at the Third Spire before the start of maintenance on Tuesday 8/28.

Solstice Armor

Last week, we confirmed that players will be able to Masterwork their Legendary Solstice Armor (Resplendent) after Solstice of Heroes ends on August 28. This week, we are going over some known issues that players may encounter trying to Masterwork this armor set after Solstice of Heroes ends.

Players will not be able to complete the Prestige Nightfall objective between 8/28 and 9/4 due to strike scoring being unavailable
After 9/4, the Heroic Strikes playlist is being retired for a single, adjustable strike hopper. Players will need to complete strikes in this new playlist with at least one clanmate to unlock this Masterwork objective.
Valor ranks reset at the conclusion of Season 3 on 9/4. If players do not unlock their Masterwork for achieving Legend in their Valor ranking by the end of Season 3, their Valor rank will reset, and they will have to begin anew in Season 4.

As a reminder, to complete this Masterwork objective, players must max out their Valor ranking with a Valor score of 2,000, then complete one more match.

Players can expect more information about changes leading up to the launch of Destiny 2: Forsaken in next week's Player Support Report.
Jump Force Roadmap Revealed
Bandai Namco has dropped a content roadmap for Jump Force ahead of it's free update in April.
Check out the roadmap below:
No Man's Sky Next Expansion is 'Beyond'
Hello Games has announced that the next major update to No Man's Sky, which it says it it's "most ambitious chapter yet", will arrive this summer.
'Beyond' will change the way players come together, offering "radical new ways" to explore the universe.
The Division 2: Clan System Breakdown
The Division 2 is now officially launched and with it comes a brand new clan system in which you can create and manage your very own group of agents in an "exclusive club" that allows you to recruit members, allowing up to 50 accounts with up to four characters each.
Ubisoft released the following information regarding the new Clan system:
The Division 2 – Clan System
How to Join a Clan in The Division 2
When searching for a clan, a number of options will be available to help you find one that best suits your particular needs or playstyle.
Activities: The primary focus of the clan, PvE, PvP or both.
Most Active Times : The time of day the clan is the most active.
Atmosphere: The general atmosphere of the clan. This will indicate whether a particular group is relaxed and easy-going clan, focused on certain aspects, or a highly competitive PvP clan.
Mic Requirement: If the clan requires a microphone to be able to join.
Language:The primary spoken language of the clan.
Region: The geographical location of the clan members.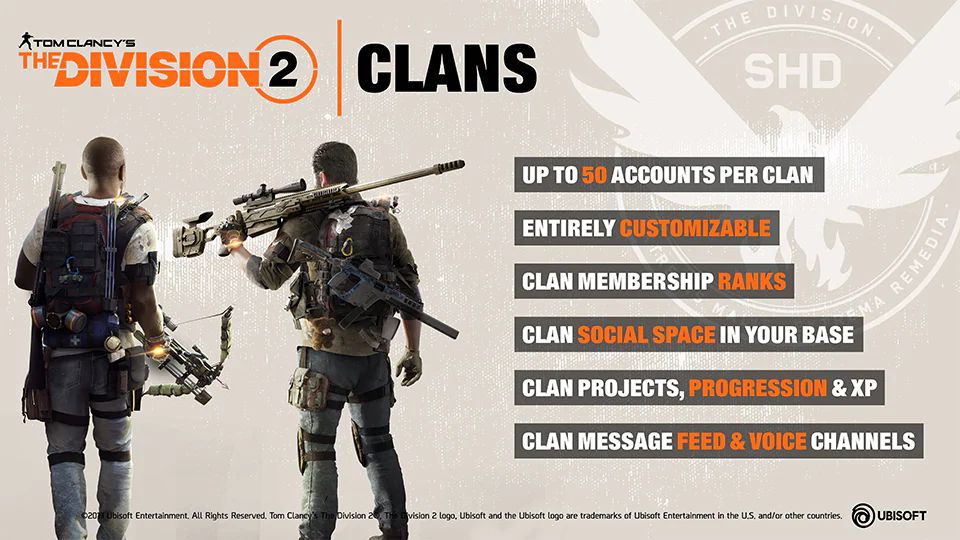 Creating and Managing a Clan in The Division 2
When creating a clan, you will start off with designing an insignia. There will be various options to choose ranging from icons, a background and border types to create your own unique design.
Once you have created an insignia, it's time to give your group a name. A clan name can be between 4 to 15 letters long and the clan tag, which is visible to all players, consists of three capitalized letters. You can also write a presentation to introduce your clan to your players.
Each clan is also able to set a preferred privacy level which consists of the following:
Open – Searchable and open for all players.
Invite Only – Searchable but requires an application to be sent and reviewed by clan leadership.
Private – A private clan is not searchable and can only be joined through an invite sent by the clan's leadership.
Clan membership is also organized into four ranks, which will help tremendously with organisation and structure:
Commander – The leader of the clan which has access to all administrative functions of the clan.
Lieutenant – The officer rank, which will be able to send out invites, review applications, promote and demote members as well as moderate the clan feed.
Agent – The established clan member able to invite potential recruits to the clan.
Recruit – The recruit is a new member of the clan with limited access to administrative clan functionality.
When reviewing applications as a Commander or Lieutenant, you will be able to inspect the applicant's characters and have a look at their gear.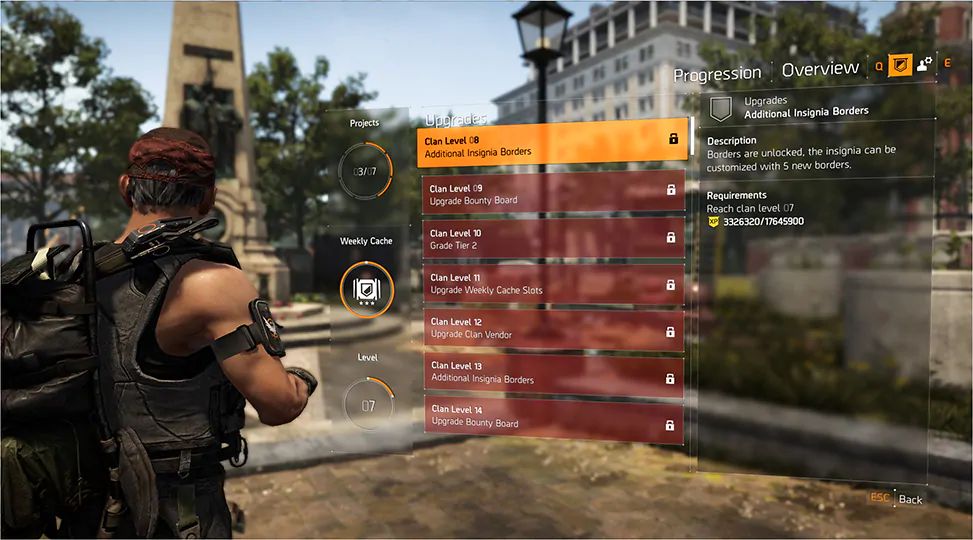 Clan Progression in The Division 2
All in-game actions taken by members which provide experience points will alsoyield Clan XP (CXP). Earning experience will help your clan level, which in turn provides additional benefits for each level the clan reaches up to level 30. CXO will also unlock additional customization options for the insignia, showcasing your clan's veterancy.
Clans will also work together toward common goals such as weekly projects and a clan cache which can be upgraded. Both will rewards members upon completion. The weekly clan cache requires a weekly CXP goal to be reached with additional stretch goals.
There are three tiers of reward: bronze, silver and gold. Reaching bronze unlocks guaranteed rewards, while reaching silver and gold will further improve the week's rewards.
Clan projects are weekly tasks and will boost your CXP upon completion, and each focuses on a particular aspect of the game. Should your clan complete all weekly projects, it will receive an additional, large amount of CXP.
Clan Quarters in The Division 2
Ever dreamed what it would be like living in the White House? Well, dream no more, my loves: this is where your clan will hang out.
Over in the East Wing of the White House, your clan will have its own space to socialize and regroup. Here is where you will find all of the clan stash to collect your weekly rewards, look over the clan bounty board, and interact with the clan vendor once reaching clan level 2.
As part of the clan's level progression, the quality of items offered by the clan vendor will improve. Certain levels will also unlock the ability to purchase cosmetic headgear sporting your insignia. Neat.
OTHER STORIES ON VG247
:: Devil May Cry 5 has a censored scene in the West – but only on PS4 – VG247
:: Watch the reveal of The Master Chief Collection on PC – and possibly the disc-less Xbox
The clan quarters is also where you'll be able to see your clan's three, weekly top CXP contributors. Nothing like giving your members a bit of recognition for their accomplishments, right?
Massive said there will be more to discover in the clan quarters, but they are keeping things secret until the game releases.