Destiny 2: Forsaken All Supers And Subclass Abilities
Destiny 2: Forsaken is bringing a lot of new content to the game, so much so that it is likely that the once-flawed Destiny 2, may finally be on the right track.
Along with the new DLC, there will be a host of new supers arriving and they have all been broken down below (h/t VG247).
Hunter Class
Nightstalker Subclass: Way of the Wraith
Standard – The smoke bomb slows enemies when caught in the cloud and doles out plenty of damage.
Perk – Landing a perfect, precision kill will make the Nightstalker turn invisible and they will gain true sight.
Super: Spectral Blades – Turns the Nightstalker invisible and provides the player with twin void blades. They can then sneak around the battlefield unseen before striking.
Gunslinger Subclass: Way of a Thousand Cuts
Standard – The Gunslinger's melee move throws out a fan of burning knives.
Perk – Killing enemies while they are burning will recharge this ability, plus, burning enemies will also recharge the Hunter's dodge.
Super: Blade Barrage  – Doubles down on the Hunter's knife skills allowing them to dish out some explosive kills. Basically, Way of a Thousand Cuts its an amped-up version of the Hunter's knife abilities.
Arcstrider Subclass: Way of the Current
Standard – Sliding before dishing out a melee attack causes the player to perform a staff-powered, uppercut strike. Any melee attacks will also increase reload speed.
Perk – All Arc abilities electrify enemies, and if you go on to melee them after electrified, they will become disoriented. This will also recharge the Hunter's abilities.
Super: Whirling Guard – Gives Hunters the ability to spin their staff to block incoming projectiles. These will be reflected back at the target, and will triple the damage doled out by the staff afterwards.  In short, use the staff to reflect damage, and then go in and smack enemies around with it.
Titan Class
Sentinel Subclass: Code of the Commander
Standard – Melee ability causes an explosion.
Perk – With Code of the Commander, all void melee attacks attach a void detonator. Enemies with a detonator attached will explode when damaged, and the fallout causes detonators to be attached to enemies caught in the explosion.
Grenade – The grenade ability partially recharges grenade energy for the Titan and nearby allies when the detonators are triggered.
Super: Banner Shield – Produces a barrier absorbing enemy attacks when holding guard. Allies can shoot through the barrier, making it a good option for boss damage rotation.
Sunbreaker Subclass: Code of the Devastator
Standard – The melee ability allows the Titan to throw a hammer which physically remains in the world.  Retrieving it will fully charge the melee ability and trigger health regen.
Perk – The more Solar kills made, the more damage will increase stacking up to three times.
Super: Siege Hammer  – Creates a much larger flaming hammer than before. When hitting it on the ground, it creates earthquake-like tremors and sends out a flaming tornado.
Striker: Code of the Missile
Standard –  While airborne, press melee to slam into the ground like a mini Fist of Havoc.
Perk – Picking up ammo while sliding will reload the Titan's weapon and increase damage for a short period of time.
Super: Thundercrash – Sends the Titan hurdling great distances like a missile. Players are able to control the trajectory  before landing like a meteor.
Warlock Class
Voidwalker Subclass: Attunement of Fission
Standard –  This new Atomic Breach melee ability creates a void explosion at range.
Perk – Any Void ability kills will heal the player and grant ability energy.
Grenade – While holding down the grenade button, the Warlock will create a AoE supernova explosion.
Super:  Nova Warp  – Empowers the player with a teleportation ability that allows them to continuously teleport short distances. This can be finished up with unleashing a large burst of explosive energy.
Stormcaller: Attunement of Control
Standard –  Tapping melee flings out long distance electricity balls which will explode. Upon detonation, lightening bolts will stream downwards.
Perk – Arc kills have a chance to produce Ionic Tracers. This spark of raw, ionic energy will travel back to the player, and if collected, will recharge abilities.
Super: Chaos Reach – Fires a long range bolt of arc energy. This can be deactivated to save energy if needed.
Dawnblade Subclass: Attunement of Grace
Standard –  Melee attacks burn enemies and empower allies.
Perk –  Abilities pertaining to healing or empowering will replenish abilities which aren't a super.
Grenade – Can be transformed into a Blessing by holding down the button. Doing so produces a projectile that can be used to heal allies. It also drops overshield orbs which can be retrieved.
Super: Well of Radiance – When the Warlock slams their sword into the ground, they will create a wide radius aura. It will heal and empower all allies which stand in it.
Jump Force Roadmap Revealed
Bandai Namco has dropped a content roadmap for Jump Force ahead of it's free update in April.
Check out the roadmap below:
No Man's Sky Next Expansion is 'Beyond'
Hello Games has announced that the next major update to No Man's Sky, which it says it it's "most ambitious chapter yet", will arrive this summer.
'Beyond' will change the way players come together, offering "radical new ways" to explore the universe.
The Division 2: Clan System Breakdown
The Division 2 is now officially launched and with it comes a brand new clan system in which you can create and manage your very own group of agents in an "exclusive club" that allows you to recruit members, allowing up to 50 accounts with up to four characters each.
Ubisoft released the following information regarding the new Clan system:
The Division 2 – Clan System
How to Join a Clan in The Division 2
When searching for a clan, a number of options will be available to help you find one that best suits your particular needs or playstyle.
Activities: The primary focus of the clan, PvE, PvP or both.
Most Active Times : The time of day the clan is the most active.
Atmosphere: The general atmosphere of the clan. This will indicate whether a particular group is relaxed and easy-going clan, focused on certain aspects, or a highly competitive PvP clan.
Mic Requirement: If the clan requires a microphone to be able to join.
Language:The primary spoken language of the clan.
Region: The geographical location of the clan members.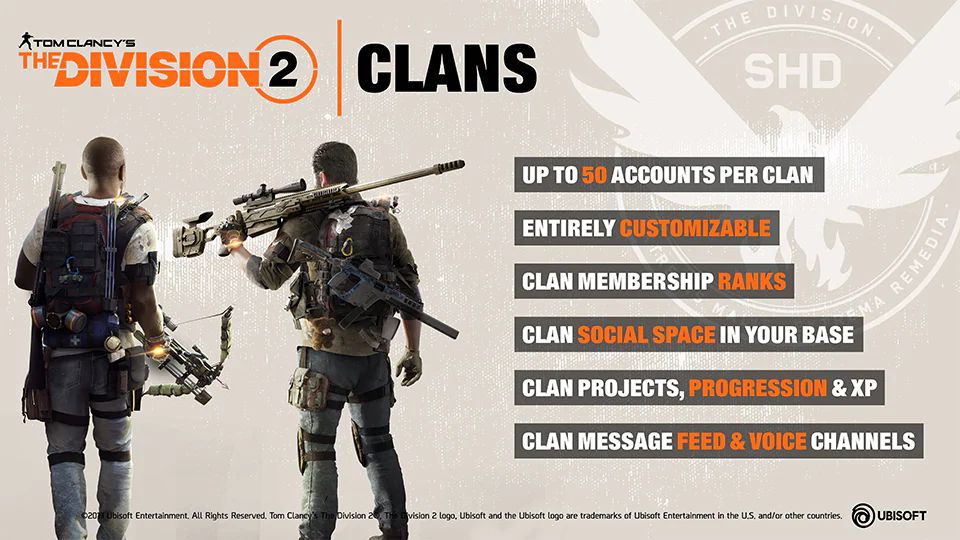 Creating and Managing a Clan in The Division 2
When creating a clan, you will start off with designing an insignia. There will be various options to choose ranging from icons, a background and border types to create your own unique design.
Once you have created an insignia, it's time to give your group a name. A clan name can be between 4 to 15 letters long and the clan tag, which is visible to all players, consists of three capitalized letters. You can also write a presentation to introduce your clan to your players.
Each clan is also able to set a preferred privacy level which consists of the following:
Open – Searchable and open for all players.
Invite Only – Searchable but requires an application to be sent and reviewed by clan leadership.
Private – A private clan is not searchable and can only be joined through an invite sent by the clan's leadership.
Clan membership is also organized into four ranks, which will help tremendously with organisation and structure:
Commander – The leader of the clan which has access to all administrative functions of the clan.
Lieutenant – The officer rank, which will be able to send out invites, review applications, promote and demote members as well as moderate the clan feed.
Agent – The established clan member able to invite potential recruits to the clan.
Recruit – The recruit is a new member of the clan with limited access to administrative clan functionality.
When reviewing applications as a Commander or Lieutenant, you will be able to inspect the applicant's characters and have a look at their gear.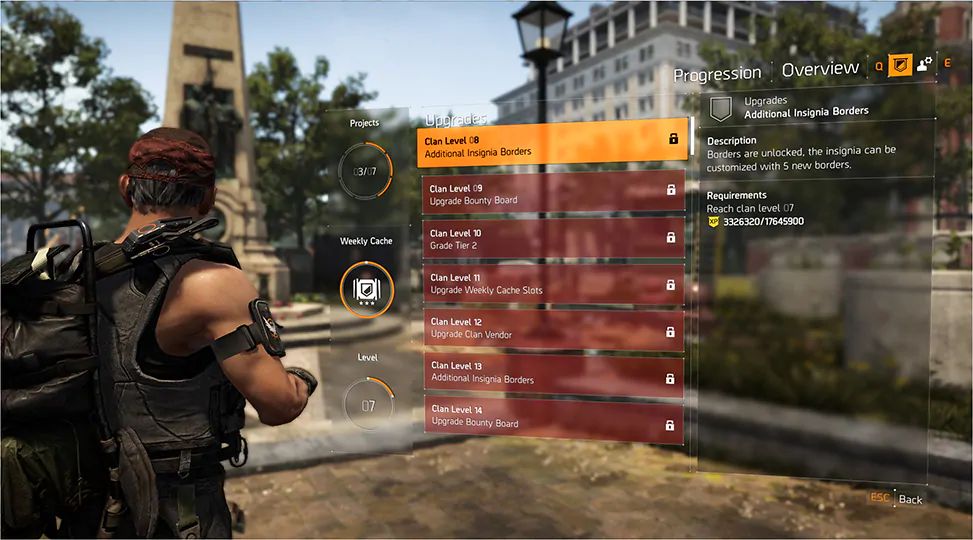 Clan Progression in The Division 2
All in-game actions taken by members which provide experience points will alsoyield Clan XP (CXP). Earning experience will help your clan level, which in turn provides additional benefits for each level the clan reaches up to level 30. CXO will also unlock additional customization options for the insignia, showcasing your clan's veterancy.
Clans will also work together toward common goals such as weekly projects and a clan cache which can be upgraded. Both will rewards members upon completion. The weekly clan cache requires a weekly CXP goal to be reached with additional stretch goals.
There are three tiers of reward: bronze, silver and gold. Reaching bronze unlocks guaranteed rewards, while reaching silver and gold will further improve the week's rewards.
Clan projects are weekly tasks and will boost your CXP upon completion, and each focuses on a particular aspect of the game. Should your clan complete all weekly projects, it will receive an additional, large amount of CXP.
Clan Quarters in The Division 2
Ever dreamed what it would be like living in the White House? Well, dream no more, my loves: this is where your clan will hang out.
Over in the East Wing of the White House, your clan will have its own space to socialize and regroup. Here is where you will find all of the clan stash to collect your weekly rewards, look over the clan bounty board, and interact with the clan vendor once reaching clan level 2.
As part of the clan's level progression, the quality of items offered by the clan vendor will improve. Certain levels will also unlock the ability to purchase cosmetic headgear sporting your insignia. Neat.
OTHER STORIES ON VG247
:: Devil May Cry 5 has a censored scene in the West – but only on PS4 – VG247
:: Watch the reveal of The Master Chief Collection on PC – and possibly the disc-less Xbox
The clan quarters is also where you'll be able to see your clan's three, weekly top CXP contributors. Nothing like giving your members a bit of recognition for their accomplishments, right?
Massive said there will be more to discover in the clan quarters, but they are keeping things secret until the game releases.